Sony Pictures Was Reportedly Hacked, Get The Details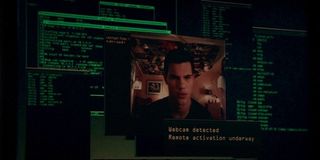 Sony Pictures Entertainment was allegedly targeted and infiltrated by hackers on Monday. In fact, the attack was so vicious that the studio had to inform its employees across the world not to connect to its network or access their emails.
Variety has confirmed that the hack took place, and sources also went on to say that no other subsidiaries of Sony Corporation were affected by the cyber invasion, but there are concerns that employees at Sony Pictures Entertainment might be blighted by this incident for quite some time. Sony Pictures has reportedly informed their employees that the situation might not be resolved for as long as three weeks. However, they have also noted that it could be done and dusted in a day. Basically, it sounds as if they haven't got a clue about how much damage has been done to their network.
So what exactly happened as a result of the hack? An insider has now explained that when Sony employees arrived at their offices on Monday morning and turned on their company computers, they were greeted with a message that declared, "Hacked by #GOP." Which is clearly the last thing that you want to see bright and early on a Monday morning. This was then followed by, "Warning: We've already warned you, and this is just the beginning … We have obtained all your internal data including secrets and top secrets." Obviously everyone who works with the company was a tad taken aback by this promise and at this point "Sony's cyber security jumped in to action. They informed their employees that they had to turn off their computers and disable Wi-Fi on their mobile devices. You can check out the picture and the message that "Hacked by #GOP" uploaded to Sony's server below. You should proceed with caution though because it's really quite creepy and disturbing.
Weird, right? "#GOP" also teased that they would release the information that they had collected from their hack later on Monday evening. This has still yet to materialize, though, which is something that everyone associated with Sony Pictures is probably a little bit revealed by (while continuing to be quite nervous). At the moment, the group who orchestrated and planned the hack still hasn't come forward. In fact, it's still not actually known why the hackers even infiltrated the system and what their motives were.
Bloomberg has alleged that the group responsible is called "Guardians Of Peace." However they didn't have any more details about why they actually committed the offense. Sony still hasn't commented officially on the matter, only stating that they are investigating "an IT matter." They are probably just embarrassed.
Your Daily Blend of Entertainment News