Why Community's Hiatus Isn't The Worst Thing Ever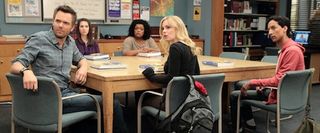 Community's absence from NBC's Midseason 2012 schedule has naturally upset fans of the series. An online petition has already surfaced to give fans a way to take action. Putting aside the fact that NBC didn't even acknowledge the series in their lengthy release discussing Midseason 2012, let's look at the bright side. At least it wasn't moved to Saturdays... right??
Stay with me for a second here as I'm doing my best to be optimistic about the Community situation. In an ideal world, Community will exist for a much deserved and blissful six-seasons-and-a-movie, after which it will graduate from primetime and live on in our memories... and probably Netflix at some point. But we're living in a world where good shows often suffer from unfortunately low ratings despite their devoted fan-bases, and despite how good they are.
?While it would have been nice if NBC had included a mention of the series to give fans some indication of what they're thinking, at least they haven't cancelled it (yet) or sentenced the comedy to some other night on television. Short of airing it via picture-in-picture over episodes of Law & Order: SVU, it's unlikely that the series will score more viewers on any other night besides Thursdays. Aside from cancellation, the worst case scenario would be for NBC to do to Community what CBS almost did to Rules of Engagement in sentencing it to Saturday night. RoE received a last minute scheduling shift back to Thursdays, but the initial set-up for Saturdays does indicate that Friday isn't really the worst possible death sentence for a TV show.
Looking at the Midseason 2012 schedule for NBC as it is now, it's hard to see another option for Community, short of 30 Rock, Up All Night or Whitney getting cancelled or delayed. While I'm sure Community fans will gladly make a case for how any of these shows being pulled from the line-up would be better than a Community-less winter (assuming NBC doesn't bring it back in the spring), I'm not sure I'd agree, despite my love for Dan Harmon's excellent series.
For one thing, 30 Rock, which was already delayed, is due to return and a lot of people are likely to be anxiously waiting for it. For another, Up All Night is a good series and it deserves a better shot than the one it's gotten on Wednesday nights. Its new Thursday night time slot may be just the thing it needs to boost its audience. And while I can't make an honest case for Whitney, I also couldn't argue that Community would be any better off paired with Are You There, Chelsea? on Wednesday nights. It seems more likely that Community's ratings would slip even further if moved to Wednesdays or any other night of the week.
?When factoring in the show's steady but low ratings, and the already packed Thursday night line-up, perhaps a break for Community is the best case scenario for the series right now. Call this blind optimism if you will, but maybe in this case, no news really is good news. In the meantime, at least the series hasn't been cancelled, and sources are saying it will return. Let's hope it's true! I'm also hoping that, despite the series' absence, we might get some Community-supplement to tide us over, like a web series or some random Troy and Abed video blogs.
Kelly joined CinemaBlend as a freelance TV news writer in 2006 and went on to serve as the site's TV Editor before moving over to other roles on the site. At present, she's an Assistant Managing Editor who spends much of her time brainstorming and editing feature content on the site.
Your Daily Blend of Entertainment News
Thank you for signing up to CinemaBlend. You will receive a verification email shortly.
There was a problem. Please refresh the page and try again.