Why Filming The Seinfeld Finale Was Different Than Any Other Episode, According To Julia Louis-Dreyfus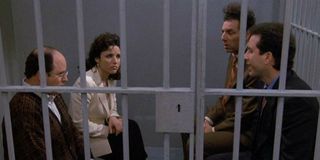 For a show that prided itself on being about nothing, Seinfeld sure meant (and still continues to mean) a hell of a lot to people all over the world. The legendary sitcom ran for nine seasons on NBC and became one of the central programs on the network's Must See TV lineup in the 1990s. The show prided itself on its cynical refusal to indulge in the sentimental or the overly emotional. However, according to actress Julia Louis-Dreyfus: filming the series finale represented the first time anyone involved in the series really understood that their nine-year run had finally come to an end. Here's what she had to say:
Julia Louis-Dreyfus revealed the emotional memory during a recent interview with People. Seinfeld very purposefully ended with minimal fanfare in 1998, but the very act of ending a stellar nine season run drummed up quite a bit of heartache for all involved. The show had always broached even the most morbid or dramatic topics with a strong helping of casual cynicism – seriously, the show really brushed off Susan's death in Season 7 – but when it all came to an end, the cast and crew could sense the finality of it all.
Despite the fact that Seinfeld ended in an emotional manner for those involved in the actual production, we're glad that those emotions did not translate onto the screen. The finale episode of the series – aptly titled "The Finale" – featured the four central characters going to jail for a year for violating the "Good Samaritan Law" for refusing to help a carjacking victim during a trip to Paris. Even as they're found guilty and put into their cell they seem to brush off the gravity of the situation and begin to bicker as if they are sitting in their usual New York coffee shop. It's very mundane, but made all the better now that we know it actually meant something for the performers as the show finally came to an end.
The legacy of Seinfeld continues to this very day. It represents one of the last great multi-camera sitcoms, and has become a standard by which modern comedy series are judged. It was a series not easily forgotten by the cast and crew almost two decades later, and we wholeheartedly agree with that sentiment.
Originally from Connecticut, Conner grew up in San Diego and graduated from Chapman University in 2014. He now lives in Los Angeles working in and around the entertainment industry and can mostly be found binging horror movies and chugging coffee.
Your Daily Blend of Entertainment News
Thank you for signing up to CinemaBlend. You will receive a verification email shortly.
There was a problem. Please refresh the page and try again.