Why Shameless Season 5 Will Be Overrun With Hipsters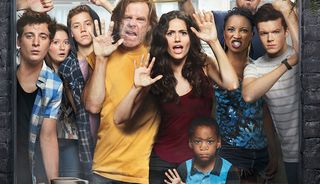 The Gallaghers face an invasion when Season 5 of Shameless picks up! The new poster for Season 5 should give you a vague clue about what's coming to their Chicago neighborhood...
It isn't just trendy coffee that's headed to Shameless. It's a full-on culture clash! As Showtime's official synopsis for Season 5 strongly implies, the hipsters have arrived, as the Gallaghers' neighborhood heads toward gentrification...
So, it seems the Chicago neighborhood may be seeing some upgrades, which may have a drastic impact on the kind of people moving in. Showtime says that the Gallagher's neighborhood "begins a move towards gentrifying." Star Emmy Rossum puts it more bluntly by calling it an "invasion of hipsters." More on that can be seen and heard in the photoshoot video below...
This has the potential to be an amazing arc for Shameless, and given that the series is headed into its fifth season -- a time when cable series often begin to start losing momentum -- introducing a new and contrasting ingredient to series' recipe may be just what the show needs. The idea of the Gallaghers coming face-to-face with people who are likely to be their polar opposites is brimming with potential. Especially when we consider what William H. Macy says in the above video about them all being protective of their shit. Even if there are upgrades to their neighborhood, the Gallaghers might not appreciate the joggers and latte drinkers invading their turf.
Beyond the invasion, it sounds like this drastic shift to the neighborhood may actually have a positive impact on the Gallagher family, with the mention of their efforts to "reconcile their chaotic past in the hopes of building a better future." We'll see how that works out. In the meantime, the Gallaghers are coming back! Who's ready?
Shameless premieres Sunday, January 11 At 9 PM ET/PT on Showtime. In addition to returning stars. William H. Macy, Emmy Rossum, Ethan Cutkosky, Joan Cusack and Emily Bergl, Season 5 will also include guest appearances by Dermot Mulroney, Steve Kazee and Sasha Alexander.
Your Daily Blend of Entertainment News
Thank you for signing up to CinemaBlend. You will receive a verification email shortly.
There was a problem. Please refresh the page and try again.