Why Steve Harvey Probably Screwed Up The Miss Universe Announcement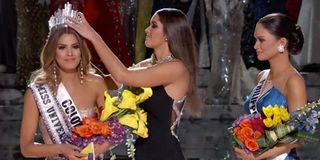 Earlier this week Steve Harvey hosted the Miss Universe 2015 pageant. All seemed to go off without a hitch until we got into the final few minutes of the show. During that time, Steve Harvey announced the incorrect winner of the pageant and then waited a full two minutes before mentioning his mistake. It was the flub heard 'round the world, and as it turns out, it may have happened because the Family Feud host declined to practice that portion of the program beforehand.
Rehearsals are a key component when getting a live show off of the ground, and the Miss Universe 2015 pageant obviously had a rehearsal before it aired to work out the kinks. While Harvey did show up to get a feel for the stage and participate in the first part of the rehearsals, news indicates that he left before the end of the practice show. If that's true, it means he didn't practice announcing the winner at all beforehand. You'd think it would be easy to read off of an envelope, but obviously it wasn't.
All of this allegedly happened according to a behind-the-scenes report from ET Online; the outlet is also noting that Steve Harvey said he had a bad moment when he realized what had happened.
Any time there is a live show there is the sense that anything could happen, whether that "anything" be an honest mistake or a publicity stunt. That's how we ended up with Miley Cyrus' foam finger and MIA's middle finger, but it's also how Alex Trebek was convinced to say Turd Ferguson and how we got to see Jennifer Lawrence fall while wearing a wildly expensive Oscars dress.
In Steve Harvey's case, his flub was a major one that led to the creation of memes and more. I can't even imagine what it would have felt like to be Colombia's Ariadna Gutierrez, who wore the crown for a full two minutes before Steve Harvey came back up onstage and said she wasn't actually the winner of the major pageant. For two minutes, she thought she was set with the wardrobe, tanning package and all of the other big prizes that come with being crowned Miss Universe 2015. Then, Steve Harvey had to hop back up and say she actually didn't win and that the Philippines' Pia Alonzo Wurtzbach was actually the true winner. That was a far better moment for one contestant than the other.
Harvey's been in front of a camera for long enough that he may have felt the Miss Universe 2015 pageant would be yet another cakewalk. I don't doubt that his apologies following the incident have been sincere and that he truly made a mistake while up on the stage, but if this teaches us anything, it's that dress rehearsals should really never be skipped. Practice makes perfect, Steve Harvey, practice makes perfect.
Reality TV fan with a pinch of Disney fairy dust thrown in. Theme park junkie. If you've created a rom-com I've probably watched it.
Your Daily Blend of Entertainment News
Thank you for signing up to CinemaBlend. You will receive a verification email shortly.
There was a problem. Please refresh the page and try again.