Why You Should Be Excited About True Detective's Trailer Premiere, Release Date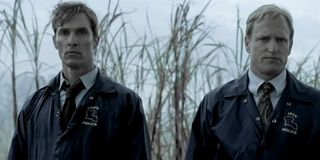 As if HBO didn't already have a million great things going on this week—alright, namely the Season 4 premiere of Boardwalk Empire--the network announced today that audiences will be getting the very first True Detective trailer just before the season premiere of Boardwalk Empire airs. As if that wasn't incredible news, the subscription cable network also announced that the eight-episode series will premiere in January of 2014.
I know what you are probably thinking. Why is this young woman going apeshit over a program that HBO has definitely not been advertising for and that I haven't heard much, if anything, about? I'll tell you why—because its premise is awesome, following a case that began in 1995 and moving into 202, and its cast is awesome. Let's talk a little more about the premise before we get into the specifics of the cast.
True Detective follows Rust Cohle (Matthew McConaughey) and Martin Hart (Woody Harrelson) as a couple of detectives who are on a manhunt for a serial killer in Louisiana over a period of 17 years. According to Deadline, the case will follow the events in 1995, as well as subsequent interviews from the two detectives after the case is opened up again in 2012. This is where the premise gets fun. Unlike The Killing, True Detective will wrap up its case over the course of eight episodes, and if people like what they see, a brand new case with brand new lead actors will follow in the next season.
That eight-episode commitment is a genius idea. It means the series should never grow stale, and it also means the project should pique the interest of an a-list crowd of actors like McConaughey and Harrelson. Also signed on for the show is Young Adult actress Elizabeth Reaser, Texas Chainsaw 3D star Alexandria Daddario, and The Wire actors Wood Harris and Michael Potts.
Typically, visuals can give fans a better idea of what they are getting into with a new comedy or drama, but unfortunately, all that we've actually gotten so far, footage-wise, is an eerie trailer announcing the setting and the stars of the drama.
This means that this weekend's trailer premiere should be really important, because it will give us a taste of what the drama will be like. I'm probably going to watch the drama regardless of what the trailer looks like because I love crime programs, Reaser, and even the two leads in the series, but if you are on the fence about this one at all, keep your eyes peeled for new footage. I, for one, am feeling that this might be HBO's big premiere this TV season.
Boardwalk Empire returns Sunday, September 8 at 9 p.m. ET, so be sure to tune in a few minutes early for the official True Detective trailer.
Amazing Race & Top Chef superfan with a pinch of Disney fairy dust thrown in. If you've created a rom-com I've probably watched it.
Your Daily Blend of Entertainment News
Thank you for signing up to CinemaBlend. You will receive a verification email shortly.
There was a problem. Please refresh the page and try again.