Witches Try To Take Over The World In New Lifetime Original Movie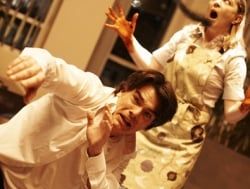 There are a lot of things I like to do if it's the weekend and I find myself home alone. Sometimes those things involve the farmers market, or taking the dog to the park, but more often they involve lying in bed with a giant bowl of microwave popcorn and/or frozen chocolate and watching hour after hour of Lifetime. If you're anything like me, you're going to be super-excited about Lifetime's latest original movie, The Gathering. Also? A little bloated.
Picture it: A two-part miniseries in which Peter Gallagher and his eyebrows play Michael Foster, a devoted husband with a perfect family whose world is shattered when his wife (Kristen Lehman) disappears from their locked home. As Foster hunts for his wife, he is befriended by Maggie Rule, a teacher played by The Sopranos' Jamie-Lynn Sigler, who helps him in his search. He soon learns that his wife's disappearance may be linked to those of several other people in recent months and that they all may be connected to an ancient religious sect of witches set to dominate the world. World-dominating witches! Does Lifetime, or really, life, get any better than that? No! Unless, that is, they add Peter Fonda into the mix as Thomas Carrier, a wealthy real-estate developer with a hidden agenda that may threaten all of New York City. And they do!
My appreciation for Lifetime movies is a recent one. I always thought they were sappy and stupid, but the unintentional hilarity of Kirsten Dunst in Fifteen and Pregnant and the just plain weirdness of seeing Battlestar Galactica's Captain Starbuck in How I Married My High School Crush, has made me love them. Not to mention the fact that knowing exactly what you're going to get out of a movie just by the title is extremely satisfying. After all, Kirsten Dunst was fifteen and pregnant, and Starbuck did indeed marry her high school crush.
Lifetime has also moved away from its reputation as a career graveyard and attracts stars who could get work elsewhere. After all, The Sopranos may be over, but Sigler isn't exactly in Tori Spelling territory yet. BSG is currently a fan favorite, so Katee Sackhoff didn't need to do a movie on basic cable just to prove she's still alive. The fact is people are starting to realize that while Lifetime movies may not be of the highest quality, they're pretty darn fun. Witches, black magic and murder? Now that's my idea of a good Saturday night. Check out the trailer below for more mystical goodness. You can see more videos as well as photos and interviews at Lifetime.com.
Part 1 of The Gathering airs Saturday, October 13 at 9:00PM on Lifetime.
Part 2 of The Gathering airs Sunday, October 14 at 9:00PM on Lifetime.
Your Daily Blend of Entertainment News