The X Factor Finale: Is Crowning A Country Boy A Double-Edged Sword?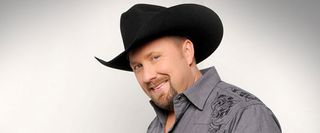 The X Factor was supposed to be a show that was an answer to American Idol, a show that was bigger, better, and bolder and looked for a pop star who could put on a show, as well as sing his or her little heart out. That's what the extravagant costumes, lighting, and stage shows are about, right? Right? So, how did The X Factor, in its second season, already fall into the Idol trappings of letting a bonafide good ol' country boy take the reigns of this competition early on and go on to finish it? It's just one more move to take on the same audience that Idol contracts, rather than to create a new niche.
Make no mistake; I am an X Factor fan and a Tate fan. Those 75 votes I plugged into the Internet on Wednesday should prove that point. Between Carly Rose—the girl who sings with technical precision and no heart—and Fifth Harmony—who face it, need the right song to make that work, Tate had the competition in the bag. Not only was he likeable, he was sincere, and that still goes along way, even if he was occasionally stepping up to sing bad renditions of Bon Jovi tracks.
The thing is, turning The X Factor into Idol isn't going to create a singing competition formula that will rake in the viewers, even if Idol is becoming a dinosaur. From Simon Cowell to boot camp, the shows already have enough basic similarities to garner comparisons. Even if The X Factor does a hundred subtle things to make the show different via announcing rankings, showing backstage cattiness, mentoring the kids, oh yeah, and generally being executed even more tightly than its spring competition, there are still those basic similarities that people are always going to notice and complain about, first.
The one thing The X Factor really had going for it when it initially aired was that it was looking for pop stars—people that could easily top the Billboard Hot 100 charts. While there is some crossover on the chart, with Taylor Swift and Carrie Underwood coming to mind, Tate Stevens isn't exactly a crossover kind of man. He'll sing about beer and bonfires all day and never in a mainstream manner. He's the real deal, and that's why he's great, but I also think that's why The X Factor will continue to struggle in the ratings.
Hopefully, Tate Stevens will be able to put together an album and become a true star. That's one thing that newer competition shows like The Voice and The X Factor are missing. If a show throws a $5 million dollar contract at someone and still can't turn that person into a celebrity (See: Melanie Amaro), that show will constantly be fighting for its credibility. Maybe Tate will help The X Factor to prove it has the goods. Hell, maybe Carly Rose or even Emblem 3 will step up to fill that function. Whatever happens, The X Factor needs a pop star, and soon.
Amazing Race & Top Chef superfan with a pinch of Disney fairy dust thrown in. If you've created a rom-com I've probably watched it.
Your Daily Blend of Entertainment News
Thank you for signing up to CinemaBlend. You will receive a verification email shortly.
There was a problem. Please refresh the page and try again.