X-Men May Be Getting A TV Show, Here Are The Details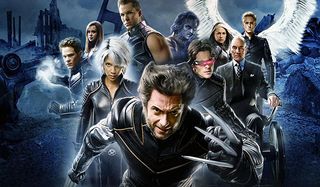 Comic book movies are still quite popular, but live-action TV is the latest craze when it comes to adapting superheroes. DC Entertainment and Warner Bros is giving us Arrow, Gotham, Constantine and The Flash this fall season while Marvel Studios continues their MCU adventures with Agents of S.H.I.E.L.D., Agent Carter and their upcoming batch of Netflix series, the first of which will be Daredevil. Now, Fox is looking to get in on the Marvel action, with a new rumor suggesting that the company is developing a live-action X-Men TV series.
Although Bleeding Cool didn't offer many details on the proposed series, there are many different paths the series could take. One of the things that has made the mutant squad's separation from the Marvel Cinematic Universe sting less is that the X-Men cast is large and diverse. There have been seven films during the past 14 years, and there are still plenty of heroes and villains that haven't been introduced yet. The creative team will have no problem assembling its cast of characters. It's possible that Fox may go the DC TV route and keep the big and small screen universes separate, but if they're smart, they'll keep them connected so that the show can build on the mythology the movies have constructed during the past 14 years.
One option might be forgoing the traditional 'superheroes fighting bad guys' route and deliver something more unique. Perhaps the series could follow the students of Xavier's School for Gifted Youngsters, similar to what Grant Morrison did in New X-Men. If done right, it could appeal to both a younger audience and longtime fans. Another option would be taking a Young Justice-type approach and have the protagonists carry out discreet missions around the world, similar to the gestating X-Force movie. Not only would this work within the constraints of a much smaller TV budget, but we'd get to see mutants kick some ass on a more subtle level. A story doesn't need to involve Sentinels or hordes of mutant soldiers for it to be exciting.
This isn't the first time an X-Men property has appeared on TV. Mutant X lasted three seasons, from 2001-2004, and was developed by Marvel Studios, Tribune Entertainment and Fireworks Entertainment. Because Fox held the live-action rights to the X-Men characters, the only similarity between Mutant X and the X-Men franchise was the term 'mutant.' The series used all original characters, and their mutations were the result of government experiments rather than natural genetics. The X-Men have also had a long history with animated TV shows, which includes the early 1990s series, 2000-2003's X-Men: Evolution and 2009's Wolverine and the X-Men. Mutants are clearly comfortable on the small screen.
Although the film series hit some bumps with X-Men: The Last Stand and X-Men Origins: Wolverine, things have been picking up for the mutants. Since X-Men: First Class, the series has been on the rise critically, with X-Men: Days of Future Past earning critical acclaim when it was released in May. Fox's upcoming slate of X-Men projects includes X-Men: Apocalypse, Deadpool and an untitled third Wolverine movie.
Bringing mutants back to the small screen may seem like overkill at first, but with all the comic book TV shows currently airing and in development, throwing one more series into the mix won't hurt. Who knows, maybe Sony is developing a Spider-Man related TV show.
Your Daily Blend of Entertainment News
Connoisseur of Marvel, DC, Star Wars, John Wick, MonsterVerse and Doctor Who lore. He's aware he looks like Harry Potter and Clark Kent.