The Stranger Things Stars 6 Years After the Premiere: Check Out Millie Bobby Brown, Finn Wolfhard, and More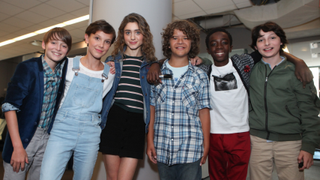 (Image credit: Steve Zak Photography / Contributor)
I think that it goes without saying and without much risk of any argument that Stranger Things Season 4 - which debuted its first volume on Friday, May 27 with the next batch coming to Netflix July 1 - is the most terrifying installment of the hit series yet. However, I suppose we could have anticipated that the content in this show about some already creepy stuff would mature over time, as the characters and the actors who play them grow up.
It is hard to believe that it has been six years since the Duffer Brothers' ode to spooky sci-fi movies of the '80s first debuted and more so that its teen and young adult heroes are the same middle school kids we fell in love with in Season 1. See for yourself by scrolling through the slideshow below featuring pictures of the Stranger Things cast from back then next to photos of what they look like now.
Sarah is currently a professional child wrangler. When she is not running around on the playgrounds and slapping together PB&J sandwiches, she loves getting a good sweat in at the gym, singing, and going to see live theatre (while simultaneously dreaming about being a part of a stage creation again one day).
Your Daily Blend of Entertainment News
Thank you for signing up to CinemaBlend. You will receive a verification email shortly.
There was a problem. Please refresh the page and try again.