My Brilliant Wife Had An Incredible Idea For How To Bring Avatar's Pandora To Disneyland, But It's Not The Only Option
Disneyland is getting its own Avatar experience but that could mean anything. Here are a few possibilities, some big and some small.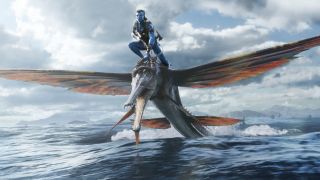 (Image credit: 20th Century Studios)
The Walt Disney Company's quarterly earnings calls have most recently been pretty boring affairs without much interesting news if you're not an actual stockholder in the company. But during yesterday's Q1 call, we learned that not only are the Toy Story, Frozen, and Zootopia franchises getting sequels, but James Cameron's Avatar will be making its way to Disneyland… somehow.
No specifics were given about how what Bob Iger called an "Avatar experience" would be brought to Disneyland, but the lack of detail only causes the mind to wander. There's no guarantee that Disneyland will get its own Pandora: The World of Avatar, like what you'll find at Disney's Animal Kingdom at Walt Disney World. We could be getting something much smaller, which could be why Iger never used the word "attraction." However, while mentioning this development to my wife, she had an idea so good I wish I'd thought of it, and it's only one of several interesting ideas.
Replace Tom Sawyer Island With Pandora
Disney executives are often very careful with the language they use, so the fact that Bob Iger called what is coming to Disneyland an "experience" and not an "attraction" or a "land" could indicate that what we're going to get could be something other than a new show or ride. It could be something more free form that lets you have an Avatar experience without getting in line for a ride or seeing a show. But where could you put something like that? My wife's first thought was Tom Sawyer Island.
Tom Sawyer Island is a place where people, mostly kids, can walk, run, climb and play. It sits in the middle of the Rivers of America and has a dock for the raft that gets you there and a small cabin. It's a place designed mostly to just explore, which is why making it an "Avatar experience" would work so well. It's covered in what can be made to look like an untouched forest, referencing the original film, and is surrounded by water, referencing the sequel. It also has caves, which are featured in World of Pandora's incredible Flight of Passage attraction and could become part of a future Avatar sequel.
Avatar: Explore Pandora Comes To Disneyland
While taking over Tom Sawyer Island is one way Disneyland could do an "Avatar Experience" in a big way, there are also much smaller ways such a thing could be done. Shanghai Disneyland is currently home to one type of Avatar experience, in the form of the Avatar: Explore Pandora traveling exhibition. This could very easily travel to Disneyland.
The exhibition is a walkthrough experience where viewers can see life-sized statues of the Na'vi and Pandora wildlife, some of which have animatronic elements. It would certainly count as an Avatar experience. There's even a good spot for it inside the park as it could go inside the old Carousel of Progress building. The former Star Wars Launch Bay is having its top floor transformed into a DVC lounge, but the ground floor is still closed. If we expand Iger's original statement and consider this experience could go anywhere in the Disneyland Resort, the old ESPN Zone building is another candidate for something like this.
Pandora Takes Over Critter Country
Of course, what most guests would really love to see would be a version of Pandora: The World of Avatar at Disneyland, even if it had to be something smaller than what they have at Disney's Animal Kingdom. The places one could put such a thing are limited, but one possibility would be taking over Critter Country.
With Splash Mountain about to be transformed into Tiana's Bayou Adventure, the marquee attraction of Critter Country could just as easily be incorporated into New Orleans Square next door. Once that happens, Critter Country is little more than a counter service restaurant, a Winnie the Pooh dark ride and a gift shop. The entire space, with maybe a bit of expansion, could become a smaller Pandora with at least one attraction. Perhaps we'll see an Avatar version of the current Journey of Water under construction at Epcot. It's a walk-through experience, and thus may not be looked at as a traditional Disney attraction. And with Tiana's as cover, the alien world would be nearly invisible until you were inside it.
The Star Wars Launch Bay Becomes The RDA's Pandora Experience
Shifting back to the smaller scale, the most obvious place to stick something Avatar-related would be in the futuristic Tomorrowland, and the most obvious place in Tomorrowland would be in the unused Star Wars Launch Bay.
Pre-pandemic, the old Carousel of Progress building had been a place where guests could buy Star Wars merch and get photo-ops with Star Wars characters that, at the time, didn't fit in Star Wars: Galaxy's Edge. We could see this concept simply recycled, swapping out Star Wars for Avatar. The ground floor of the Launch Bay becomes a place where Pandora: The World of Avatar merch is for sale, and perhaps some unique PhotoPass opportunities could be had.
Pandora Could Takeover A Large Portion Of Tomorrowland
Finally, we take our biggest swing at bringing Pandora to Disneyland by making our most radical change to the park. Following the building of Star Wars: Galaxy's Edge, there just isn't a lot of room left at Disneyland to expand. So if we want to build a decent-sized Pandora, we have to take some things out, and the best place to do that, both structurally and thematically, is to build Pandora next to Tomorrowland by completely removing some combination of the Star Wars Launch Bay, Autopia and the Finding Nemo Submarine Voyage; possibly even all three.
It's clear nobody is quite sure what to do with the Launch Bay building. Autopia was built back before freeways existed, but now gas-guzzling cars are the last things that belong in a place called Tomorrowland. Taking these two attractions out would give a significant amount of space to build something new. And once you took them out, you'd be building this new Pandora around the lagoon used for the submarine ride, and it feels like some brand new The Way of Water attraction would fit perfectly there.
Bob Iger promised details on this new Avatar experience soon, but until we have at least some info, we can't even begin to guess if what we're getting at Disneyland will be something small or something big. It's not even clear if Disney itself really knows the answer yet. For fans of Avatar, even something small will be appreciated, but we can always hope it will be so much more.
Your Daily Blend of Entertainment News
Content Producer/Theme Park Beat
CinemaBlend's resident theme park junkie and amateur Disney historian. Armchair Imagineer. Epcot Stan. Future Club 33 Member.