Which WWE Women's Champion Should Rhea Ripley Challenge At WrestleMania 39?
Who should she challenge?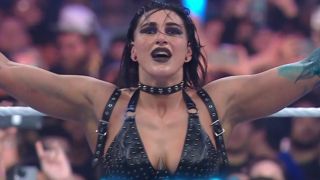 (Image credit: WWE )
Rhea Ripley has spent much of the past year removed from the women's storylines in the WWE, but now she's back and on a mission. The Judgment Day member just secured a massive win in the 2023 Women's Royal Rumble match, thus establishing her dominance as the fourth-ever competitor to win after entering from the starting position. Rhea Ripley will be in the main event of WrestleMania 39, but will she challenge Bianca Belair or Charlotte Flair?
There's no easy road for Rhea Ripley here, as it's hard to peg either current champion as an ideal matchup. With that in mind, let's review some key things to consider regarding why Ripley may be favored in one matchup over another, and which one the fans might like to see the most.
Why Rhea Ripley Should Challenge Bianca Belair
Bianca Belair, the "EST of WWE" is fresh off of her win against Alexa Bliss, and it seemed pretty convincing. With that said, it's fair to say that Bliss was distracted by all of that Bray Wyatt and Uncle Howdy nonsense, so Belair's decisive win at the 2023 Royal Rumble might feel overstated.
Did Cody Rhodes Really Win The Royal Rumble?
From a story-telling perspective, Rhea Ripley has the competitive edge on Bianca Belair. Ripley was the person who won the NXT championship off of Belair years ago, though Belair has definitely gotten the upper hand in years since. It's also worth noting that while Bianca Belair had an impressive win at the 2021 Royal Rumble after winning as the third entrant, Ripley just bested that with her win in the one slot.
There's a case to be made that Rhea Ripley is the more dominant competitor of the two, even if Bianca Belair of them has been Raw Women's Champion for 300 days and counting. Keep in mind that Rhea Ripley recently demolished Akira Tozawa in an almost-unheard-of intergender match not long ago. Belair has done a lot in the past year, but Ripley is doing things that wrestling fans haven't really seen since Chyna's run.
Why Rhea Ripley Might Avoid Bianca Belair
Rhea Ripley may feel confident in her accolades and track record against Bianca Belair, but she shouldn't be overconfident. Bianca Belair's long title reign has been met with significant challenges, and I'd argue she's faced more quality opponents than any other champion in the WWE has faced in the past year.
Bianca Belair has notched decisive title match wins against the likes of Becky Lynch, Bayley, and Asuka, all within the past year. She's on a hot streak that Rhea Ripley would be foolish not to consider and may opt out of testing her at WrestleMania 39.
Why Fans Would Want To See Rhea Ripley Vs. Bianca Belair
There's always something magical about seeing two former NXT colleagues meet up again in the WWE, and that's exactly the appeal here. Bianca Belair and Rhea Ripley are two of the remaining major women's superstars that don't have a definitive rival. It's fair to say that both are still relatively young in their WWE careers, so why not set these two up to square off now and in the years to come? I know that I wouldn't complain to see Ripley vs. Belair at a few upcoming WWE events in 2023.
Why Rhea Ripley Should Challenge Charlotte Flair
Charlotte Flair only just returned to the WWE after a long time away getting married and dealing with other stuff. Now she's back, and some might think it's business as usual considering how quickly she became champion again. The fact of the matter is, however, that the women's division has changed a good deal in a short time, and there are more big names coming for her crown than ever before.
Rhea Ripley has lost a few title matches to Charlotte Flair in the past, but she was a different wrestler then. Since aligning with Judgment Day, she's been on a whole other level in terms of her physicality and brutality. Charlotte Flair is a fierce competitor, but I'm not sure she's ready for what Ripley would be bringing her way if they fought.
And let's also remember that the Judgment Day is a big plus for Rhea Ripley in terms of winning a match against Charlotte Flair. For as dominant as Flair is, she's not really a champion that has a lot of allies. Sure, she can hold her own against just anyone in the ring, but can Flair pull out a win against Ripley with Finn Balor, Damian Priest, and Dominik Mysterio at ringside protecting her? I doubt it.
Why Rhea Ripley Might Avoid Charlotte Flair
The idea of advocating for anyone to challenge Charlotte Flair, even as I wrote it, sounds absolutely wild. Flair has quickly established herself as one of the greatest women to have ever graced the WWE, and quite literally helped change the landscape of women's wrestling as we know it.
One doesn't simply become a 14-time Women's champion, and Charlotte Flair has signaled she isn't even close to done. Sure, she's been away for a bit, but that just means she's eager to hand out another ass-kicking and put to rest any speculation that she is the reigning queen of the WWE.
Why Fans Would Want To See Rhea Ripley Vs. Charlotte Flair
Charlotte Flair has had some iconic title matches in her career, but I'd say facing someone like where Rhea Ripley is at now is something new. People are often comparing Ripley to Chyna, and while I'd argue she's something unique to that, it's been a long time since anyone like Chyna has been in the WWE.
My point being is that Rhea Ripley is a young talent who seems like she may very well be a generational talent that stands out on the WWE's roster for years to come. Sure, we've seen Ripley and Charlotte Flair have a match before, but have we seen Rhea Ripley fresh off a dominating performance at the 2023 Royal Rumble? This is one of those legendary match-ups that define moments in a career. Whether it's Flair who retains against the fearsome Ripley or Ripley who topples the champ and ushers in a new era of domination, this one feels like a classic in the making.
Of course, we won't know who Rhea Ripley is challenging until she announces her choice. Tune into Monday Night Raw on USA Network at 8:00 p.m. ET to see if she mentions it there, or wait for SmackDown on Fox on Friday at the same time to see if it happens then.
Your Daily Blend of Entertainment News
Mick likes good television, but also reality television. He grew up on Star Wars, DC, Marvel, and pro wrestling and loves to discuss and dissect most of it. He's been writing online for over a decade and never dreamed he'd be in the position he is today.