Anne Hathaway And Kate Hudson Go Bridezilla On DVD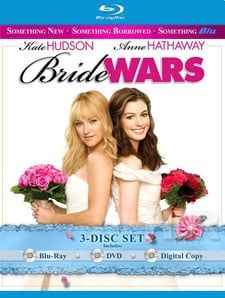 Soon you'll be able to see Anne Hathaway and Kate Hudson go at it as many times as you want. Twentieth Century Fox Home Entertainment is releasing Bride Wars on DVD and Blu-ray April 28th.
When two wedding-obsessed best friends, Emma (Hathaway) and Liv (Hudson), find out that the only way they can have their dream weddings is if they have them on the same date, they declare war. Their lifelong friendship means nothing compared to their hopes of having the perfect wedding at the Plaza Hotel in June. Emma and Liv attempt to continuously sabotage each other into submission. Will the ladies resolve their differences or will both weddings be ruined?
Okay, I'm not going to completely bash Bride Wars. While I think this is a complete waste of Hathaway's talent, there is always a spot on the shelf for a chick flick comedy, even if it's a terrible one. What woman doesn't like hanging out with a group of friends on a Sunday afternoon, watching their love fantasies unfold on DVD? The part of this film that really irks me, is how demeaning it is to these twenty-something women, the demographic it's meant to appeal to. Rather than portray the leading ladies as women of power and potential, they come off as rather ridiculous lacking any ability to put their priorities into perspective.
If you're able to enjoy this film for what it is, you can pick it up for $29.98 on DVD or $39.99 on Blu-ray. The DVD only comes with the film, three deleted scenes and "The Perfect White Dress – Vera Wang" featurette. The Blu-ray version, on the other hand, comes loaded with bonus material including a digital copy of the film, the film on DVD, "Something Old, Something New and What That's Gonna Cost You – Pop-Up Wedding Cost Calculator," seven deleted scenes, cast improvisations, "Fox Movie Channel Presents: In Character with Kate Hudson," "Fox Movie Channel Presents: In Character with Anne Hathaway," and three featurettes. Is all of this worth the money? I'm still bitter about spending $12.00 to see Bride Wars in the theaters; so no, it's not.
Staff Writer for CinemaBlend.
Your Daily Blend of Entertainment News
Thank you for signing up to CinemaBlend. You will receive a verification email shortly.
There was a problem. Please refresh the page and try again.