Carve Into The Bonus Features From Spartacus: Blood And Sand: The Complete First Season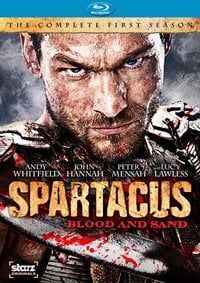 As I write this I'm cruising through the bonus features on the excellent Spartacus: Blood and Sand Blu-ray set I'll be reviewing in this section next week, so it's oddly appropriate that clips from three of these bonus features just turned up in my inbox to share with you guys.
Even if the set didn't include anything but the show itself, it would still be a must-buy, because Spartacus overcame a rocky pilot episode to become one of the best, and most pleasantly surprising, shows of the last season. It's got a little of everything: crazy, over-the-top action; buckets of blood; complex, duplicitous characters of ever-shifting loyalties; and, of course, all the rampant nudity you'd expect from a show about Rome at its most corrupt. It's a show for grown-ups that really has fun with the freedoms of cable -- throwing in eye candy of every sort but balancing it all out with genuinely gripping and tragic storytelling.
We've got three clips from the bonus features today, two of which highlight the outstanding cast and the last which takes a sillier look at the day actors Andy Whitfield and Jai Courtney had to spend some time in the Shit Pit. Warning: that last clip may damage your view of the guys' unbridled machismo.
Starz's prequel series to Spartacus is set to air this January. The Complete First Season hits Blu-ray and DVD next Tuesday, September 21st.
Your Daily Blend of Entertainment News
Thank you for signing up to CinemaBlend. You will receive a verification email shortly.
There was a problem. Please refresh the page and try again.