Everything Is Relative With Brotherhood The Final Season On DVD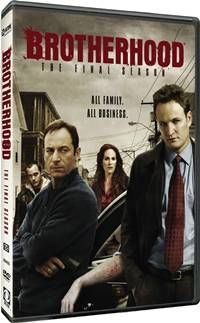 Brotherhood never quite got the attention it deserved during its three-season run. Although it picked up a Peabody award in 2007, the crime drama was always overshadowed by more hyped shows such as Weeds, Dexter, and Californication. That's a shame, because the show is a gripping, intense drama that could have helped ease the pain of mourning Sopranos fans.
The star shows Jason Isaacs (probably best known as Lucius Malfoy from the Harry Potter movies) and Jason Clarke (Public Enemies) as Irish brothers on opposite sides of the law – one a criminal and the other a politician. Set in and around the working-class Providence, Rhode Island neighborhood where the brothers grew up, Brotherhood gives Isaacs a rare chance to shine as something other than a rote villain, and features a stellar supporting cast including Annabeth Gish (latter-day X-Files' Agent Reyes) and Ethan Embry (Freakylinks…remember Freakylinks?).
Brotherhood's third and final season arrives on DVD on September 22nd. The two-disc set will run you $42.99.
Your Daily Blend of Entertainment News
Thank you for signing up to CinemaBlend. You will receive a verification email shortly.
There was a problem. Please refresh the page and try again.