Get Your Ass Kicked On Blu-Ray And DVD August 3rd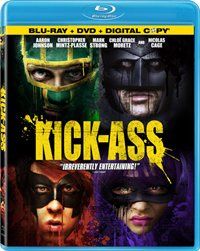 We were of diverse opinions here at CinemaBlend when it came to Kick-Ass, and we weren't the only ones. People either hailed it as a hilariously offensive super-hero satire for grown-ups or dismissed it as an utterly tasteless train wreck. I kind of think it was both, which is why I liked it. At any rate, you can make up your own mind -- or eagerly add it to your collection -- when it hits Blu-ray and DVD August 3rd.
Based on Mark Millar's comic series, Kick-Ass takes a crowbar of reality to the Spider-Man mythology of the teenage crimefighter. Overeager nerd Dave Lizewski decides the world would be a better place with a real spandex-clad vigilante or two, so he sets out to fight crime in a custom-ordered wetsuit...and damn near gets murdered. Dave isn't one to let stab wounds, broken bones, and an extended hospital stay dampen his spirit, however, so once he's all mended up he's right back at it, now sporting his own version of Wolverine's adamantium skeleton (metal plates in his head and extensive nerve damage). Before long he's become a YouTube sensation, crossed paths with a pair of more experienced crimefighters (Nicholas Cage and Chloe Grace Moretz), befriended a kindred spandex spirit (Christopher Mintz-Plasse), and unwittingly wound up marked for death by a local mob boss (Mark Strong).
The DVD will run you $29.95 and include audio commentary, art archives, and the "It's On! The Comic Book Origin of Kick-Ass" featurette. Go bigger with the Blu-ray combo pack for $39.99 and you'll get all of the above, plus a making-of documentary, a feature-length "Ass-Kicking Bonus View Mode," and assorted BD-Live bells and whistles. The flick will also be available On Demand and for digital download that same day. Still undecided? I make my case for Kick-Ass's ass-kickingness right here.
Your Daily Blend of Entertainment News
Thank you for signing up to CinemaBlend. You will receive a verification email shortly.
There was a problem. Please refresh the page and try again.