Go Behind The Scenes With Transformers 2 Writers In This Exclusive Clip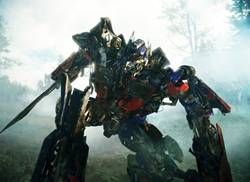 Michael Bay's latest barrage of 'bots, bosoms, and kabooms arrives October 20th when Transformers: Revenge of the Fallen hits Blu-ray and DVD. To get you primed (so to speak), we've got an exclusive clip from the disc's special features, with screenwriters Alex Kurtzman, Roberto Orci, and Ehren Kruger talking about the film's storyline and the challenges the film faced because of the writers' strike.
If you're looking for further Transformers-related fun, you can also click over to www.transformersmovie.com/choose. The site lets you send your friends phone calls from Optimus Prime or Starscream, customize your Facebook profile, or even "robotize" yourself, a phrase which brings back memories of childhood nightmares inspired by that scene in Superman III where the lady gets sucked into the supercomputer and chrome-plated.
In the mean time, here's Kurtzman, Orci, and Kruger:
Your Daily Blend of Entertainment News
Thank you for signing up to CinemaBlend. You will receive a verification email shortly.
There was a problem. Please refresh the page and try again.