Interactive Map Reveals The Top Netflix Rentals By Zip Code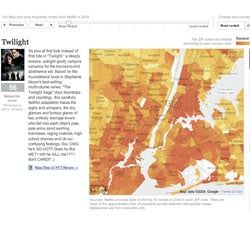 Brace yourself because this is one of those things that can suck out hours of your life before you know it. A team from The New York Times created interactive maps for 12 major cities revealing which movies and TV shows the folks from that area rent most frequently via Netflix.
I'm proud to say that my neighborhood is filled with some very knowledgeable movie-renters. Here's the top ten list for my town:
The Curious Case of Benjamin Button
Changeling
Doubt
Gran Torino
Valkyrie
The Wrestler
Last Chance Harvey
Milk
Slumdog Millionaire
Twilight
It's interesting (and rather addicting) going from town to town and seeing how the selections change. It seems as though the majority of the '100 frequently-rented titles' the NYT included in the survey are 2008 theatrical releases. I saw The Proposal pop up in some neighborhoods as well as Knowing and I Love You, Man but nearly every zip code's top ten list is dominated by 2009 Oscar nominees. A large majority have The Curious Case of Benjamin Button at #1 followed by Gran Torino, The Wrestler, Milk and Slumdog Millionaire in some order. Then, of course, there were a few films that occasionally creeped onto lists likely to make the townsfolk blush. I caught The Women, My Best Friend's Girl and New in Town in the mix from time to time.
If you want to examine the maps title-by-title, there's a handy scrolling section on across the top of the page. One-by-one, you can flip through all of the movies included, see their Metacritic score, a description of the film/show and how frequently they pop up on people's queues based on what colors the area is shaded in.
What's the point? Unless you're working at Netflix, there probably isn't one, but that doesn't mean it's not a blast to mess around with. Click here to check it out for yourself.
Staff Writer for CinemaBlend.
Your Daily Blend of Entertainment News
Thank you for signing up to CinemaBlend. You will receive a verification email shortly.
There was a problem. Please refresh the page and try again.