It's A Trap As Family Guy Sends Out Their Third Star Wars Parody This December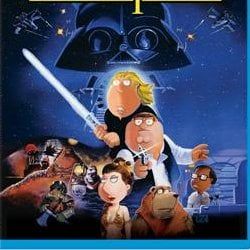 Family Guy fans who were wondering how long it would be before Seth MacFarlane and company got around to skewering Return of the Jedi, you'll only have to wait until this December. Twentieth Century Fox Home Entertainment has announced that Family Guy: It's a Trap! will be hitting Blu-ray and DVD December 21st, just in time for Christmas shopping.
Fans at Comic Con got an early look at 10 minutes of footage from the spoof this past weekend, but the rest of us will have to wait for the holidays to get our peepers on it. If you've seen the previous two outings -- Family Guy: Blue Harvest and Family Guy: Something Something Something Dark Side -- you've probably got a pretty good idea of what to expect. Fan service, wry observations, and likely a musical number or two. According to the press release, we can also look forward to voice cameos from Adam West and Carrie Fisher alongside Patrick Stewart and Michael Dorn, reprising their roles from Star Trek: The Next Generation. Oh, and Rush Limbaugh is doing the voice of the Rancor. Sounds about right.
No word yet on special features, but the last two had plenty to offer so I doubt this one will break with tradition. The press release also notes that you'll be able to pick up a triple-pack of all three Family Guy/Star Wars spoofs if you want the whole trilogy in one fell swoop. Also, SSSDS eventually aired as this past season's Family Guy finale, so there's probably a good chance It's a Trap! will follow suit if you can wait that long.
Your Daily Blend of Entertainment News