Kevin Conroy Returns For Batman: Gotham Knight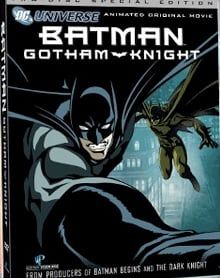 This is what I get for trusting IMDb. While the database is fantastic for information about movies that have already seen release, info on future releases is spotty at best. The last time I reported about Batman: Gotham Knight I made the mistake of stating that Christian Bale would be voicing Batman and Bruce Wayne in the DVD movie. That made sense: Batman: Gotham Knight is a six vignette story that helps bridge the gap between Batman Begins and The Dark Knight, which feature Bale as Batman and Bruce Wayne. It turns out that's not quite true, although the real voice actor is just as exciting.
Warner Brothers has announced that long time Batman vocal actor Kevin Conroy will voice the Dark Knight in Batman: Gotham Knight, continuing the trend of Conroy as the animated Batman's voice. Conroy has been with the character since Batman: The Animated Series and even voiced the older Bruce Wayne in Batman Beyond, so having him provide the voice in this DVD movie is perfect. Honestly, it would feel weird seeing an animated version of Batman that wasn't voiced by Conroy.
Along with Conroy, the cast features a pretty talented cast filing in some key roles in Bruce Wayne's development as the Dark Knight:
Swipe to scroll horizontally
Gary Dourdan (CSI: Crime Scene Investigation) and Ana Ortiz (Ugly Betty) are heard in multiple segments of the six-story film as police detectives Crispus Allen and Anna Ramirez, key members of a special unit who learn to trust the Dark Knight's motives. Parminder Nagra (ER, Bend It Like Beckham) supplies the voice of Cassandra, a mystical Indian woman who teaches Bruce Wayne to endure and manage his pain. David McCallum (Navy NCIS, The Man From U.N.C.L.E., The Great Escape) takes on the role of loyal servant Alfred.
Other cast members include popular voice artists Corey Burton, Rob Paulsen, Kevin Michael Richardson, Will Friedle, Jason Marsden, Jim Meskimen, Pat Musick, Scott Menville, Hynden Walch, Corey Padnos and Crystal Scales.
Batman: Gotham Knight comes to DVD and Blu-ray on July 8th.
Your Daily Blend of Entertainment News
Your Daily Blend of Entertainment News
Thank you for signing up to CinemaBlend. You will receive a verification email shortly.
There was a problem. Please refresh the page and try again.