Skyline Invades Homes On March 22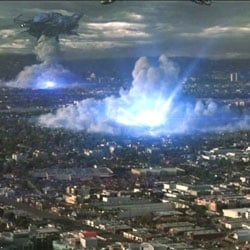 To prepare you for the wave of alien films appearing in 2011 (Cowboys & Aliens,Paul, and especially Battle: Los Angeles), Skyline will appear on DVD and Blu-Ray on March 22nd. Like Battle: Los Angeles, Skyline is a flick about an alien force descending upon the city of Los Angeles to wreak havoc and take over the human population. Despite rotten reviews, Skyline pulled in a hefty profit, making $65 million worldwide on a $10 million production budget.
Like many a movie that did well in the box office but lacked good reviews, Skyline has swiftly arrived in stores for the moderate price of $26.99 (for both the DVD and Blu-Ray copies) via Amazon. Special features for the Blu-Ray will include commentary from the directing Strause brothers and the film's co-writers, some deleted and extended scenes, some alternate scenes, trailers, and pre-visualization.
Since Battle: Los Angeles hits theaters on March 11th, you've got plenty of time to decide whether to wait for that invasion or to let Skyline land on your DVD shelf.
Image 1 of 2
Your Daily Blend of Entertainment News