House Of The Dragon's Milly Alcock Speaks Candidly About Her Struggles With Being On Such A Hugely Popular Show
It has to be tough being on such a massive show.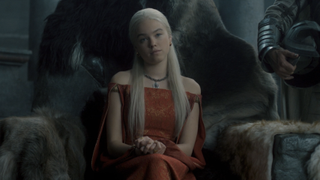 (Image credit: HBO)
Being the heir to the Iron Throne and the possible first queen of Westeros is no easy task, and on House of the Dragon, Rhaenyra Targaryen is placed with all this pressure on her. While this pressure is in a fictional world, the actresses who portray Rhaenyra are also bound to feel a similar sense of pressure playing a principal role on one of HBO's most popular series. Milly Alcock, who plays young Rhaenyra, confirmed all of this, saying playing the princess can be overwhelming.
On House of the Dragon, Rhaenyra, along with Alicent Hightower, are played by two actresses to show the younger and older versions of the women. Milly Alcock is coming to the end of her time as the character and will soon be replaced by Emma D'Arcy. In a recent Q&A with Nylon, the young actress discussed what her plans are next, saying:
It makes sense why she would want to do something extremely different next. House of the Dragon and Game of Thrones are notoriously difficult to make. Stars like Matt Smith have spoken about how it can be a lot to film sometimes. These actors have to film scenes that can be uncomfortable and challenging. For instance, Emily Carey, who plays young Alicent, talked about filming a sex scene where there is a massive age difference between the two characters and actors.
Along with the difficulty of making it comes to the challenges of being a household name. Alcock must have experienced this firsthand, as tons of fans had big reactions to scenes like the one between Rhaenyra and her uncle Daemon in the latest episode of HOTD. The actress spoke about these challenges, saying she has a hard time finding people who can relate to what she does.
The social media noise surrounding House of the Dragon is loud and intense. It would be hard to manage for anyone. Carey admitted that she deleted Twitter because there was so much criticism surrounding the show. Not many people live in this stratosphere of celebrity, so finding those who can relate to it is difficult.
Popularity is a double-edged sword, and while it can be tough on the cast and crew, the show is doing really well and has had an overall positive reaction. House of the Dragon was quickly renewed for Season 2, and I cannot wait to see where the story goes next. I'm sure Alcock will be able to find some amazing projects to do that aren't even close to the realm of HOTD, because the GOT cast has had no issue finding fun films and shows that are way outside the realm of Westeros.
While we wait to see what the young actress does next, we can see what Rhaenyra gets up to in new episodes of House of the Dragon, which drop on HBO Sundays at 9 p.m. ET and can also be streamed with an HBO Max subscription.
Riley Utley is a Weekend Editor at CinemaBlend. She spent many years working in local journalism across the country writing about art, news and sports. One of her favorite films is When Harry Met Sally and she walks around constantly quoting Ted Lasso.
Your Daily Blend of Entertainment News
Thank you for signing up to CinemaBlend. You will receive a verification email shortly.
There was a problem. Please refresh the page and try again.