The Game Of Thrones Line The Last Of Us Boss Loves Quoting At Bella Ramsey
How could you not quote Game of Thrones?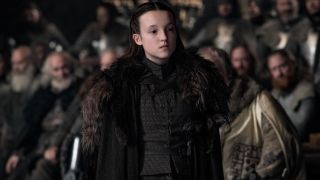 (Image credit: HBO)
When a show becomes a major part of the zeitgeist the most iconic lines are plucked from it and used in everyday life. Game of Thrones was such a runaway hit that there are tons of lines that people use from time-to-time, like "Winter is coming." or "That's what I do: I drink and I know things." or even "You know nothing, Jon Snow." However, on the set of The Last of Us, which stars GoT alums, Bella Ramsey and Pedro Pascal, there is one line from Lyanna Mormont that the video game adaptation's boss loves to quote at the actress who played her.
While playing a game for HBO Max Pedro Pascal and Bella Ramsey were tasked with guessing if lines of dialogue were from The Last of Us or another HBO show. Obviously, they had to sneak in lines the actors said during their time on Game of Thrones, and Pascal asked Ramsey with a laugh what line this was from:
She then responded, saying it was her own line from the hit fantasy series, and noted that The Last of Us creator won't let her forget it:
I can't say I blame Mazin for always quoting that line at Ramsey. As someone who was blown away by her performance as Lyanna Mormont, I too would be quoting her lines at her if I were to work on The Last of Us. Also, I feel like the quote can be applied to a lot of different situations, especially when you are part of a tight-knit creative team that works really hard to make work they're proud of, like The Last of Us cast and crew seems to do.
In Game of Thrones the line in question is delivered by Ramsey when her character is introduced in Season 6 of the hit fantasy series. Lyanna is sought out by the Stark family because they need support from other houses in the North, and the Mormont family proves to be their best bet, the catch is a young girl is in charge. However, she proves to be a firecracker who is fit to lead, and the young actress's character quickly became a fan favorite.
Obviously, the game also paid homage to Pascal's beloved Game of Thrones character, as Ramsey read him one of Oberyn Martell's lines, saying:
While Ramsey came onto Game of Thrones later in the show, Pascal appeared in Season 4, and to this day Oberyn Martell is not only a fan-favorite, but also the character with one of the most gruesome deaths on the show. So, clearly, they had to add one of his lines into the game as well.
Along with their dialogue from Game of Thrones, and some already legendary lines from The Last of Us, the actors also read quotes from shows like The Wire, Veep and The Leftovers. You can check out the charming video, where we learned about Mazin's affinity for Ramsey's well-known line from GoT here:
If this video, and consistent quoting from Craig Mazin, proves anything it's the impact these actors have left on two massive television shows. Both as recurring characters on Game of Thrones and the co-leads of The Last of Us, Pedro Pascal and Bella Ramsey have proven themselves as stars. And as the video game adaptation continues to drop episodes on the 2023 TV schedule, I'd assume there will be even more iconic lines they say that will be fit for showrunners and directors to quote at them in projects to come.
To see where these iconic quotes originated, you can stream Game of Thrones with an HBO Max subscription, and to see what Pascal and Ramsey are up to right now, you can watch new episodes of The Last of Us every Sunday at 9 p.m. ET on HBO and HBO Max.
Your Daily Blend of Entertainment News
Riley Utley is a Weekend Editor at CinemaBlend. She spent many years working in local journalism across the country writing about art, news and sports. One of her favorite films is When Harry Met Sally and she walks around constantly quoting Ted Lasso.