Take Advantage Of An Xbox Freebie This Weekend, Get The Details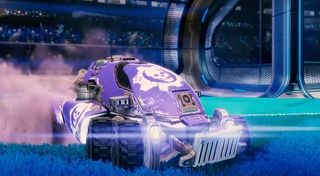 (Image credit: Psyonix)
Microsoft is bringing back their free Xbox Live weekends. This time the experience will be shared between both Xbox One and Xbox 360 gamers. Starting on June 9th, gamers without Xbox Live Gold will be able to play online over the weekend... for free.
As reported by Engadget, the free weekend will only last between June 9 and June 12, but for that brief period you'll be able to log into your Xbox account, fire up a game and play online to your heart's content without having to worry about subscription fees.
In addition to the free weekend, it was also announced that gamers will be able to play Rocket League for free as well. It's kind of like a double doozy of gaming goodness. Psyonix has been knocking it out of the park lately with giving gamers a lot of content, a lot of free updates and a lot of continued cross-platform support, so they're taking advantage of Microsoft's free Xbox Live weekend by enabling gamers to download a free copy of Rocket League and play it online with their friends.
One of the reasons this is making headlines around the web is because this is the first time since the Xbox One launched back in 2013 that Microsoft has offered up a free multiplayer weekend. It's amazing to think that the Xbox One is already three years old, but Microsoft has been treating the last two years as if they've been rebooting the entire Xbox brand.
In fact, ever since Phil Spencer took charge of the Xbox division we've seen a lot of drastic changes in the way the policies are handled at the black and green brand. This included Spencer working with the engineering team to allow Xbox Live to support cross-platform gaming with other systems, which includes PC and the possibility of the PS4. This past spring the company made a public announcement that they would be willing to work with developers who would want to offer cross-platform compatibility between PC, PlayStation Network or even the Nintendo Network.
Psyonix quickly took Microsoft up on the challenge and has managed to make Rocket League cross-compatible between Xbox One and PC users, in addition to the game being cross-compatible with PS4 and PC users. The only roadblock has been Sony not giving the green light to make Rocket League cross-compatible between PS4 and Xbox One users.
Nevertheless, with the free Xbox Live Gold weekend gamers are able to play-test some titles in their library with an online component and Rocket League is standing at the forefront as the game to play. Microsoft is likely hoping that gamers will get hooked and sign-up for Xbox Live Gold. Psyonix is also likely betting on people getting hooked to Rocket League and purchasing a copy for themselves.
In addition to the free weekend, Engadget is also reporting that Electronic Arts is getting in on the festivities, enabling users to access EA Access for free up until June 22nd. This is likely a tie-in promotion for their upcoming big E3 weekend where they're expected to make some huge announcements and showcase some highly anticipated games, which includes (but is not limited to) Battlefield 1 and Mass Effect: Andromeda.
If you have an Xbox One and a few multiplayer games, you can take advantage of the free XBL weekend right now.
Your Daily Blend of Entertainment News
Staff Writer at CinemaBlend.