Two New Cars Join Rocket League, Get The Details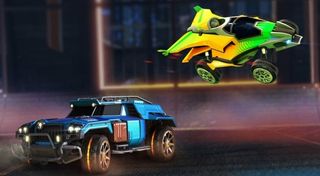 Psyonix will be bringing back two of the popular cars from their 2008, action-sports title Supersonic Acrobatic Rocket-Powered Battle-Cars. The two cars are the Marauder and the Aftershock. Both cars will be making their appearance in Rocket League starting next month on July 18.
Game Informer picked up the news from a post by Psyonix revealing that the two cars are coming back and will retain their style from the original Supersonic Acrobatic Rocket-Powered Battle-Cars, only they'll now include six new decals and higher definition assets to fit in with today's generation of consoles.
The post further details that the Aftershock and Marauder will be included in the Rocket League Collector's Edition, which will be available on June 24th at the end of the month for those living in Europe, and it will be available on July 5th for those living in America.
If you don't have any plans on getting the Collector's Edition of Rocket League, you can instead opt to get the two-car DLC pack on July 18th as its own separate expansion for $1.99.
To help give gamers a taste of what's to come, Psyonix put together a short minute-long trailer featuring the two cars in action within the game.
The trailer features both cars driving around in the arena, as well as taking to the air and pulling off some fantastic spinning moves as they blast the ball into the goal.
It's amazing that Rocket League is still going strong an entire year after being released. It didn't seem like the sort of game that would grow to this extent, and yet it has. In fact, Psyonix revealed that they managed to sell more than 5 million copies, 5 million pieces of DLC and earn more than $110 million in revenue.
Rocket League has also managed to grow a rather sizable community within the eSports market, with the game managing to accrue 300,000 viewers on Twitch when it comes to competitive play.
Psyonix seems to really love making content for Rocket League and gamers seem to really enjoy buying and playing it. So long as they can maintain that kind of synergy with their community then the game will likely have a long and fruitful life for years to come.
But getting back to the task at hand, the two new cars from the 2008 action-sports game, Supersonic Acrobatic Rocket-Powered Battle-Cars, will be available at the end of the month as part of the Collector's Edition package for Rocket League for those of you living in Europe; the Collector's Edition will be available for those living in the U.S., starting in early July; and you can look to buy the two cars in a separate bundle for Rocket League in the middle of July starting on the 18th. The DLC will be available for PC, PS4 and Xbox One owners.
Your Daily Blend of Entertainment News
Staff Writer at CinemaBlend.