This is How You Can Hang Out With Your Friends In Virtual Reality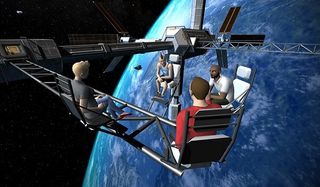 Hanging out with friends is great and all, but wouldn't it be better if we could chat on the bottom of the ocean or in the middle of a beautiful forest? Now wouldn't it be even better if you could have those discussions without ever having to leave home or, you know, drowning on the bottom of the ocean? Enter vTime, a spiffy chat program for virtual reality headsets that lets you do exactly that.
Virtual reality headsets are really starting to take hold, with the Oculus, Vive, Gear VR and even Google Cardboard making their way into more and more households. This fall we've got the PlayStation VR headset launching, and rumors are circulating that Microsoft will reveal VR plans at next week's E3 press conference.
With every new phase of technology comes a simple question: How am I going to chat with my friends? The folks at vTime think they have the answer, giving users the opportunity to meet up with their virtual pals in a virtual space in order to just hang out and have a chat.
The promotional video makes vTime look like a pretty simple program, though it's not clear if the user is selecting from a friends list or just randos from all over the world. Honestly, I could see chatting with virtual strangers as being a huge selling point for the service. Kids love to talk to strangers these days.
Once a group is together, you can plop yourselves down in all sorts of locations like in front of a camp fire in a cave, in space, on a train that looks suspiciously like the Hogwarts express or dangling from the side of a mountain.
If you happen to have full panoramic photos handy, you can also create your own location for a chill session, and even take selfies of you and your pals from within the app.
One of the scenes shows a group watching a slideshow as if it were being shown from a projector, which has us wondering if group-watching movies is an option, too.
At present, supported platforms listed are Oculus, Gear VR and Google Cardboard. Even cooler is the fact that vTime works between platforms, so you don't have to worry about whether or not your friends have the same rig as you.
If you're not too busy shooting zombies, riding roller coasters or playing with spiders in the virtual world, vTime might be a good way to unwind and catch up with friends that you otherwise couldn't share a couch with. Here's hoping they come up with a version of the app for console VR headsets, too, as they're likely to become a big part of the virtual audience by the end of the year.
Staff Writer for CinemaBlend.
Your Daily Blend of Entertainment News
Thank you for signing up to CinemaBlend. You will receive a verification email shortly.
There was a problem. Please refresh the page and try again.