Destiny: Rise Of Iron Is Gunning For An Epic Experience, According To The Community Manager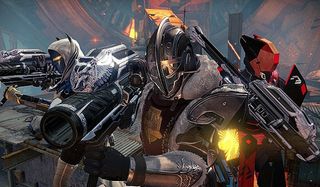 Destiny's next major expansion, Rise of Iron, is due out in just a few months and, according to Community Manager Eric Osborne, the team at Bungie is striving to make this adventure into the Plaguelands an epic one.
I had the opportunity to sit down with Osborne during E3 2016 to talk all things Rise of Iron. In the world of Destiny, things are going pretty well for the Guardians. You've taken out Oryx, the Taken King, and things have been relatively quiet for the past several months. That's when you get word that there's trouble brewing in the Plaguelands, a nasty location inhabited by the Fallen and located beyond the Wall.
Osborne said that Destiny's April update made the game feel more generous, more rewarding, and that the team has made a concerted effort to make sure that players in all activities can go in and make the climb to the higher Light level and go after the gear they want rather than the gear that, statistically, is "the best." Now comes the Sept. 20 launch of Rise of Iron, which Osborne said is a direct response to fans requesting more content. In this latest adventure, though, the tone of the game will shift a bit.
The Fallen have apparently unearthed some nasty new tech in the Plaguelands and have started integrating it onto their own bodies, which is why the baddies in Rise of Iron will look different and have brand new abilities. This all leads Saladin to calling upon the Guardians to go on a journey with him to learn what happened to the Iron Lords and, in turn, become one of their ranks.
Osborne said your first task in the new DLC will be to climb Felwinter Peak and claim the new social space, a snowy region where you'll take on new missions and meet new characters. Also on offer in this next _Destiny _adventure will be all of the usual expansion content including a new Raid, new Strikes, new public events, lots of gear, multiplayer maps and a new multiplayer mode that will be revealed shortly.
As for all of that sweet gear, Osborne said it will tie into the "epic" theme of Rise of Iron, too.
Look for Rise of Iron to arrive on the PlayStation 4 and Xbox One versions of Destiny on Sept. 20 for $29.99.
Staff Writer for CinemaBlend.
Your Daily Blend of Entertainment News
Thank you for signing up to CinemaBlend. You will receive a verification email shortly.
There was a problem. Please refresh the page and try again.