Why Halo Wars 2's Characters Look So Different From The Original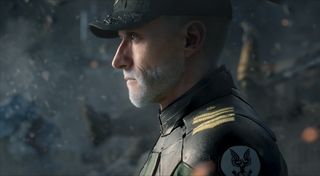 (Image credit: Microsoft)
During the cinematic E3 trailer for Halo Wars 2, many fans of the real-time strategy series may have noticed that James Gregory Cutter, the captain of the Spirit of Fire, has undergone a serious change in design. Well, Cutter isn't the only one who looks different... the other lead character, Dr. Ellen Anders, has also undergone some major changes.
Gamespot is reporting that both Anders and Cutter look as different as they do because they're now based on real life actors (digitally aged by 28 years to reflect the time that has passed within the lore of the Halo Wars universe), as opposed to being hand made by special effects outlet Blur Studios.
In a post over on the Halo Waypoint website, 343 Industries explained...
They reveal in the post on the Halo website that for the Halo Wars sequel, they've cast actors Gideon Emery and Faye Kingslee in the roles of Cutter and Anders, respectively. Some of you might recognize Gideon from his short stint on the acclaimed Daredevil Netflix show, as well as his voice in both Call of Duty: Advanced Warfare and Battlefield 3, to name but a few.
Kingslee is no stranger to video games, either. Recently she lent her voice and performance capture to DICE for their recent outing of Mirror's Edge: Catalyst. Previously Kingslee was featured in Ubisoft's Far Cry 3.
For Halo Wars 2 both Kingslee and Emery have had their voices and performances used to help bring the characters of Cutter and Anders to life. You can see how they previously looked in the original Halo Wars with the images below from the game's cinematics.
I don't believe they've showcased how the new Anders looks in Halo Wars 2, or if they have it's been reserved for those playing the beta.
Microsoft has been working with both 343 Industries and real-time strategy experts Creative Assembly in bringing the RTS sequel to life. The game will launch next year on February 21st, 2017 for the Xbox One and for Windows 10 PCs. And sadly the game will not have cross-platform compatibility, but it will support Microsoft's new play-anywhere initiative, so one copy will enable you to play across multiple devices.
Blur Studios will also still handle the cinematics just like they did with the original Halo Wars, which was easily one of the best selling points of the game. It will be interesting to see what the sales look like for the sequel, considering that the lukewarm sales of the first game led to the closure of Ensemble Studios.
Staff Writer at CinemaBlend.
Your Daily Blend of Entertainment News
Thank you for signing up to CinemaBlend. You will receive a verification email shortly.
There was a problem. Please refresh the page and try again.