Here's How Brutal Umbrella Corps Launch Numbers Are On PC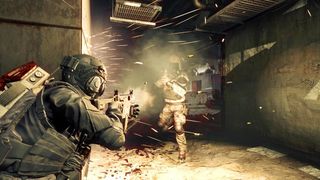 You might've read our article yesterday about how Umbrella Corps released ever so slightly after Resident Evil 7's big showcase at E3 last week, and now the PC numbers on Steam are reflecting that.
As you can see from the picture, when Umbrella Corps launched yesterday, they only had a peak of about 428 players, which is absolutely abysmal for a PC game at launch. To not even reach 1000 is unheard of. And since then, the number has continued to slip downward, barely 24 hours after the game's release.
Umbrella Corps seems to have been overshadowed by another Resident Evil game that debuted at E3, called Resident Evil 7: Biohazard, which showed off a whole new gameplay experience plus access to VR support. And with everyone still vibrating from what they saw at E3 from the game, it seems no one remembered Umbrella Corps was supposed to release the week after.
This is probably the result of two issues, one being the new Resident Evil game coming in and stealing Umbrella Corps' thunder. But another issue here is marketing. Even though I had previously spoken with PR for Umbrella Corps and was promised a review copy of the game, I received no review copy nor did I even receive any email about the release of the game. I mean, even Mighty No. 9 managed to spit out a launch trailer despite its rocky development process and marketing disaster. I did manage to finally find the launch trailer for Umbrella Corps, which you can see below.
My number one question is, how can someone just let a game go? Umbrella Corps only has 661 likes on Facebook and I can't even find an official Twitter page. But after further research, it seems they did the marketing through the Resident Evil _pages, which were of course filled with content about the new _Resident Evil 7. And Umbrella Corps content didn't really kick in until a few days ago. Before that, the feeds were filled with news of Resident Evil 7 from E3. So with poor marketing for the game and yet another Resident Evil game (seemingly much better, in my opinion, just from what I've seen) overshadowing it seems to have destroyed the Resident Evil shooter's launch, at least for PC. And it's a shame.
If you'd like to learn more about Umbrella Corps, you can check out their official website.
Your Daily Blend of Entertainment News
Thank you for signing up to CinemaBlend. You will receive a verification email shortly.
There was a problem. Please refresh the page and try again.