Here's When Resident Evil 4 Is Coming To PS4 And Xbox One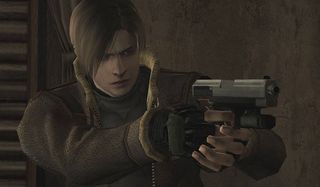 Hailed by many to be the best game in the series, Resident Evil 4 will soon shamble onto the PlayStation 4 and Xbox One with shiny new graphics and extra features in tow. This week, Capcom even let us know when we'll finally be able to get our hands on the game.
If you're looking to relive the high point of the Resident Evil series, or perhaps you missed out on the original release and are curious what all of the fuss is about, Resident Evil 4 will drop onto current consoles on August 30. The announcement was made official over on the Capcom blog, where additional details about the impending launch were also provided.
For some gamers, Resident Evil 4 pulled off a tricky balancing act. It boasted the creepy environments, terrifying monsters and low resources of earlier games, while not venturing too far into the straight third-person shooter territory where later entries dwell.
It first arrived on the GameCube and PlayStation 2 way back in 2005, with a Wii U version adding in all sorts of extra goodies for players to enjoy like a Mercenaries mode, New Game Plus and more.
According to the official announcement, all of that extra content will come baked in with the Xbox One and PlayStation 4 launch of Resident Evil 4, which will set you back just 20 bucks when it arrives in late August.
It has, indeed, been a pretty big year for the Resident Evil camp. Both Resident Evil 5 and Resident Evil 6 have already made their way to the modern platforms, both also costing $19.99 to tackle. Also released, though maybe not quite so well received, is the competitive shooter set in the world of the zombie-infested franchise, Umbrella Corps. Oh, and there's also, I think, the 14th entry in the Resident Evil film franchise coming down the pipeline.
Still, perhaps the biggest Resident Evil news came a few weeks back at E3 when Resident Evil VII was finally revealed. What's most interesting about this latest entry is that it, so far, looks nothing like a Resident Evil game. Taking place in the first-person perspective, this latest adventure appears to be a slower, more methodical nightmare that has a huge emphasis on atmosphere rather than nonstop undead shooting.
Even crazier is the fact that the game can be played in its entirety via the PlayStation VR headset. That's right: You can play this entire horror game in VR. Fun!
I think that about covers it for the Resident Evil news right now, but we're only halfway through the year, so we'll just have to wait and see if Capcom has any additional tricks up their sleeve.
Your Daily Blend of Entertainment News
Staff Writer for CinemaBlend.