What's Included In The 20 Year Celebration Edition Of Rise Of The Tomb Raider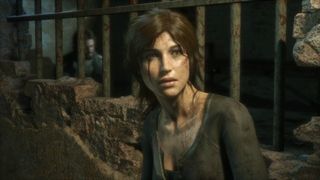 After a leak spilled the supposed release date for Rise Of The Tomb Raider on PS4, Crystal Dynamics has finally come forward to say what the release date is officially. And with that, released details on a new edition of the game.
Rise Of The Tomb Raider will be releasing on October 11 this year for PlayStation 4. And along with it, there will be a 20 Year Celebration Edition which comes with a number of different goodies.
Included in the 20 Year Celebration Edition is the full game (of course) and all of the content from the season pass, five classic variations of Lara Croft to play as in Expedition mode, Extreme Survivor ultra-hard difficulty for main campaign, new story chapter, new zombie chapter, new co-op endurance mode and PlayStation VR support. And if you pre-order the special edition, you also get an art book.
The zombie-riddled story chapter, titled Lara's Nightmare, will be set in the Croft Mansion where Lara will have to fight hordes of flesh-eating zombies. The extra story chapter, titled Blood Ties, is a narrative portion of Lara Croft's story that will be completely combat free so that players can focus on the story. PlayStation VR will offer support exclusively for Blood Ties, which will, unsurprisingly, be played in first-person.
Tomb Raider has never ever been combat free, not that I can remember at least, but I sort of fell out of Tomb Raider after all of the wannabe sequels came out before the rebooted Tomb Raider series. So it's be an interesting take to see Tomb Raider from a first-person perspective. But Tomb Raider isn't the only classic game who has tested out the first-person waters. Resident Evil 7 has completely turned to first-person perspective gameplay and VR. I don't mind a classic game like this trying out the first-person perspective to see how fans react. Adventure games like Tomb Raider and Uncharted are some of my favorite games because of the story aspect and the Indiana-Jones-like adventures, so to be able to play those from a first-person perspective would be a wild experience. I think first-person perspective combined with VR for games like this creates a whole different experience and Square Enix and Crystal Dynamics is smart to "test" it out rather than go and make a game based on it. I'm hoping if the response is good, then we could see a first-person VR Tomb Raider game in the future. But that's all speculation.
You can pre-order Rise Of The Tomb Raider for PS4 from the official website, but the 20 Year Celebration Edition won't last long, so jump on that quickly if that's what you're after. Rise Of The Tomb Raider will be releasing on the PlayStation 4 on October 11.
Your Daily Blend of Entertainment News