Tomb Raider Reboot Looking At These 3 Directors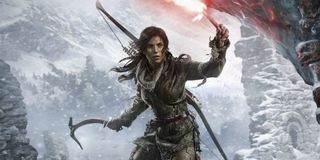 The last we heard on the reboot of the Tomb Raider franchise, Evan Daugherty (Divergent, Snow White and the Huntsman, TMNT) was hired to work on the story treatment, while MGM struck a deal with Warner Bros. to bring it to life. Now, according to the latest rumor buzzing about the Web, the director's shortlist has been whittled down to three female filmmakers. And they're all pretty great.
Tracking Board reports that Tricia Brock, who directed episodes of TV shows like Girls and Orange Is the New Black, was offered the job, though she ultimately turned it down. Now Kathryn Bigelow, Catherine Hardwicke, and Mimi Leder are the three eyed for the film. Reportedly, producers are looking for a Michelle McLaren type for the post.
Bigelow won two Oscars (Best Picture and Best Director) for her Iraq War film The Hurt Locker, which took home a total of six statuettes. In 2013, she was nominated for Best Picture for Zero Dark Thirty, though she was snubbed from the Director category. Though she executive produced the documentary Cartel Land and helmed a short film called Last Days, she hasn't had a major feature film gig since the Jessica Chastain-led film, though she plans to make True American with Tom Hardy.
Hardwicke is best known to the public as the director of the first Twilight film, and she returned to join other female panelists like Kate Winslet and Octavia Spencer to judge Lionsgate's Twilight short film fan competition. She followed up the franchise by helming the Amanda Seyfried-led Red Riding Hood and episodes of Hell on Wheels and the now-canceled Low Winter Sun. She will next direct the film based on the young-adult novel Stargirl with young stars Joey King (White House Down, Stonewall) and Charlie Plummer (Boardwalk Empire).
Last on the rumored shortlist is Leder, who has a long list of TV credits. Most recently, she helmed episodes of HBO's The Leftovers (for which she's also an executive producer), Shameless, Almost Human, Smash, and Nashville. She's prepping for the premiere of The Leftovers season 2 on October 4.
The new Tomb Raider movie will center on a younger Lara Croft as she embarks on her first major archaeological expedition, not unlike the recent video game Rise of the Tomb Raider, which is scheduled for release on November 10. The film is being fast tracked, though no actress has been announced in the leading role.
This poll is no longer available.
Your Daily Blend of Entertainment News
Thank you for signing up to CinemaBlend. You will receive a verification email shortly.
There was a problem. Please refresh the page and try again.