Here's What You Can Eat At The Kirby-Themed Cafe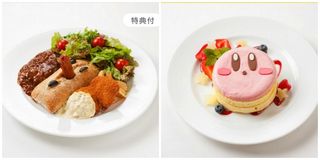 We recently reported on a cafe in Japan that was going to be completely themed after the lovable Nintendo character, Kirby, and now that cafe has released a menu. And the menu includes a number of delectable Kirby treats.
When we first reported on the Kirby Cafe, there was hardly any information known about the restaurant. But now, the cafe has been updating its website and if you're a huge Kirby fan, you're going to get a kick out of the new menu items.
The menu includes an assortment of things like seafood curry, chicken, cold fruit pasta and even cocktails, and they all have a piece of the Kirby game mixed in. For example, the macaroon cookie creation has a pink Kirby face on top and a star rod cupcake.
The cafe has also included on its website a number of Kirby-themed "goods" like hand-painted mugs depicting Kirby, iphone cases, neck pillows, post cards, buttons and more.
To top everything off, the cafe also has a number of special Kirby-themed figures from the Kirby Cafe, which seems like they work a lot like Happy Meal toys from McDonald's. After translating the page to English, it says underneath the image that the toys are handed out at random and you cannot choose. Sounds very similar to the struggles of getting the toy you want from a Happy Meal.
While there are many fans in the West that would love to visit a Kirby-themed cafe, unfortunately, the cafe is currently only located in Japan.
If the Kirby Cafe proves to be successful, hopefully there will be other themed cafes. I'm actually surprised there hasn't been a Super Mario Bros. one yet, seeing as how that franchise is far more popular than Kirby, but maybe it just takes the right kind of people to create a vision and make it happen. Personally, I wouldn't mind a horror-game-themed restaurant or bar with classics like Silent Hill and Resident Evil. Can you just imagine that Pyramid Head Pie filled with gooey cherries and splattered with a red glaze in the shape of blood splatter on top? Yeah, I'm digging it.
If you would like to check out the entire menu and what else the cafe includes, you can view the cafe's official website.
Your Daily Blend of Entertainment News
Thank you for signing up to CinemaBlend. You will receive a verification email shortly.
There was a problem. Please refresh the page and try again.