Will Nintendo Ever Consider Returning To Movies?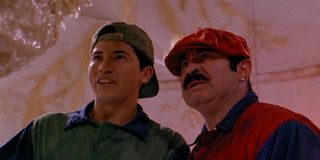 1993 saw the release of the now infamous Super Mario Bros. Performing poorly, and receiving an overwhelmingly negative critical reaction, the film put Nintendo in the position of ardently opposing any future foray into the realm of cinema, possibly until now.
In a recent interview with Fortune, Nintendo legend Shigeru Miyamoto opened up about a possible future for Nintendo licenses in the realm of cinema. He said:
Miyamoto's talk of how video games and films can relate comes across as somewhat ambiguous, and does not necessarily indicate that we may see direct adaptations of popular games at any point in the near future. The article references an interview between Miyamoto and Fortune at this year's E3 convention, in which he explained that the inherent differences in the mediums make their relationships difficult. So with that in mind, while the company may take a more aggressive approach to its relationship with the film industry, don't expect a live-action Kirby series anytime soon.
Over the last couple of years, Nintendo has tested the waters with regards to participating in movies – with varying success. They allowed for the inclusion of Bowser in 2012's wildly popular Wreck-It Ralph, as well as well as authorized the inclusion of Donkey Kong into this year's Pixels.. Both of these films took a notably meta approach to their respective subject matter – being more about video games than actually based upon them. Coupled with a recent deal struck with Universal to develop theme park attractions inspired by video game characters, we could soon see a significant increase in the characters Nintendo chooses to license out to third parties. Success in this realm could see a return to direct adaptation of Nintendo properties, but for the time being it does not seem like it will happen for a long while.
Films directly based upon classic video games have a long history of failure. At their best, they achieve modest success and a short-lived franchise (Lara Croft: Tomb Raider), while at their worst they prevent a company from making another attempt at an adaptation for decades (the aforementioned Super Mario Bros.). Even the most recent addition to the list – Hitman: Agent 47 – proved that Hollywood has yet to truly nail the formula for a pitch perfect video game movie. However, Nintendo's renewed commitment to the medium could prove the shot of adrenaline needed to produce some adaptations of note.
Originally from Connecticut, Conner grew up in San Diego and graduated from Chapman University in 2014. He now lives in Los Angeles working in and around the entertainment industry and can mostly be found binging horror movies and chugging coffee.
Your Daily Blend of Entertainment News
Thank you for signing up to CinemaBlend. You will receive a verification email shortly.
There was a problem. Please refresh the page and try again.