New Harvest Moon, Classic Kirby Hit Nintendo Consoles This Week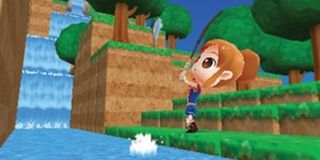 It's a pretty busy week on Nintendo platforms, with plenty of goodies available on the physical and digital marketplaces for both the Wii U and 3DS consoles. Just in time for Halloween, there may even be a few noteworthy treats to be found in the mix, including a new Harvest Moon game and a classic Kirby adventure.
Depending on your gaming tastes, there may be load for you to get excited about in this week's batch of downloadable titles for Nintendo consoles. There's nothing here that falls into the AAA category but, if you're just looking to curl up with a small game or two, then perhaps some of these will catch your fancy.
The biggest launch for the week on the 3DS is Harvest Moon: The Lost Valley (not to be confused with that other game), available only at retail. You'll be able to build up your own farm, pursue romantic interests, go on grand adventures and more. The big thing that sets The Lost Valley apart from previous Harvest Moon games is an element of customization, letting you design your farm to your liking and create a truly unique experience. Also arriving at retail for the 3DS, and Wii U, for that matter, is Wipeout: Crash & Create.
Over to the virtual front and the 3DS has a few new titles available for download this week. Zombie Panic in Wonderland DX joins the lineup in time for All Hallow's Eve, alongside Woah Dave!. Gargoyle's Quest II: The Demon Darkness will also pop up on the Virtual Console for both the 3DS and the Wii U.
Speaking of the Wii U, Nintendo's home console is getting beefed up a bit this week with two more retail games. Transformers: Rise of the Dark Spark finally arrives on the Wii U after appearing on other next gen consoles earlier this year, alongside SpongeBob SquarePants: Plankton's Robotic Revenge, for those of you who are into that sort of thing.
The game version of Falling Skies is also available for download this week on the Wii U, alongside Pixel Paint, Tetrobot & Co., Cosmophony, Rock Zombie, and Stealth Inc 2: A Game of Clones.
Over to the Virtual Console and Gargoyle's Quest II will be joined by Demon's Crest and the classic platforming action game, Kirby: Nightmare in Dream Land.
There are also a few sales on offer this week, including a Resident Evil event that will see loads of zombie-infused games discounted by more than 50 percent starting on Nov. 4. A little late to the party, but who is going to complain about a deal like that?
Blok Drop U is also dropping to just a buck on the Wii U, with Disney Frozen: Olaf's Quest melting to $19.99 and Quell Reflect sinking to $2.79.
Staff Writer for CinemaBlend.
Your Daily Blend of Entertainment News
Thank you for signing up to CinemaBlend. You will receive a verification email shortly.
There was a problem. Please refresh the page and try again.