Call of Duty: Infinite Warfare Developer Gives Insight Into The Game's Enemy, Get The Details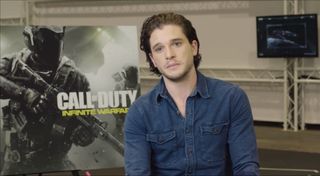 (Image credit: Activision)
During the Call of Duty: Infinite Warfare Comic Con panel at this year's San Diego convention, the developers from Infinity Ward talked about the enemy, their motivations and why they want the main character dead.
In a lengthy hour-long panel discussion hosted by Kinda Funny's Greg Miller, Infinity Ward's Taylor Kurosaki, Jeff Negus and actor Brian Bloom talked about the story, gameplay and concepts behind the upcoming Call of Duty: Infinite Warfare. The entire video was posted up on the official Call of Duty YouTube channel, but for those of you who just wanted the important bits about the enemies you'll be facing, Kurosaki explained that it's all about fighting for minerals and resources.
The main enemy faction in the game is the Settlement Defense Front. According to Kurosaki they've been in space for too long, separated from the core principles of human civilization and the SDF have adopted their own way of doing things, so much so that they've become enemies to Earth and have waged a war against those residing on Earth.
This prompts the player-character, Captain Nick Reyes, who is played by Brian Bloom, to head out into space and do battle against the SDF.
One of the leading admirals of the Settlement Defense Front is Kit Harington's Admiral Salen Koch. It's explained in the Infinite Warfare panel discussion that Admiral Koch discovers the headway that Captain Reyes is making in the fight against the SDF and begins to pursue Reyes and his space carrier down using one of the largest space fleets in the Settlement Defense Front's armed forces.
Kurosaki explains the mindset of Harington's character and those following under him, saying...
Koch plans on wiping out all of Earth's space fleet and in order to do so he has to take out Reyes' ship, the U.S.S. Retribution.
Gamespot transcribed some segments from an interview that played later in the panel discussion where Kit Harington further explained his character and his motivations, saying...
I haven't personally seen enough of the enemy to get a feel for them. Most of the gameplay footage I've seen is just a bunch of AI pawns getting mowed down by the player-character. It's a bit different from the terrifying robot kill-squads in Black Ops 3 where it took a lot to put them down and keep them down.
The series unfortunately hasn't been known for its on-the-ground enemies, but it has been known for the larger-than-life villains players face off against throughout the game, whether it was General Shepard from Call of Duty: Modern Warfare 2, voiced by Lance Henriksen, or Jonathan Irons from Call of Duty: Advanced Warfare, voiced by Kevin Spacy, the games usually have memorable lead villains.
Kit Harington will have a lot to live up to for his performance in Call of Duty: Infinite Warfare. The game is due to drop on November 4th, later this year for the Xbox One, PS4 and PC.
Staff Writer at CinemaBlend.
Your Daily Blend of Entertainment News
Thank you for signing up to CinemaBlend. You will receive a verification email shortly.
There was a problem. Please refresh the page and try again.