4 Of The Best Battery Devices To Keep Your Phone Alive For Pokemon Go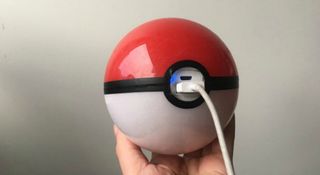 It's really no surprise that Pokemon Go drains your phone's battery to death. With the AR technology and the GPS-like system, it takes a lot for your phone to make this app work. So we decided to put together the three battery devices we thought might help out the dedicated Pokemon Go player.
4. Mophie Charging Case
This is the battery charger that I use when I play Pokemon Go. What's awesome about the Mophie charging cases is there's no carrying around awkward chargers to charge your phone. The phone gets charged immediately by just flipping a switch on the case. It's been one of the most convenient and efficient chargers I've ever had and well worth the pricetag. The case I have is one of the slightly cheaper ones with a hard, plastic exterior, but it's not waterproof. It goes for $88.49 on Amazon. But if you want a more hardcore case in the long run, you'll want to go with the stronger waterproof case priced at $129.95 on Amazon. The different Mophie cases also have different charging strengths, so it all depends on what you prefer.
3. Pokeball Charger
You've probably seen this charger all over the news lately, but it's actually a USB outlet for plugging in your phone so you can carry around a Pokeball and charge your phone while you play Pokemon Go. But beware, the downside to this battery charger is that it's pretty bulky and awkward to carry, especially if you're trying to play Pokemon Go at the same time. Some have recommended putting it into a backpack on your back while you hook it up to your phone, so it's easier to carry hands-free. The charger sells for $40.00 on Etsy.
2. AUKEY 12000mAh Power Bank
This is the second best battery charger available out there for those times Pokemon Go sucks the life out of your phone. It can charge an iPhone 6S 4.5 times, a Galaxy S6 3 times and an iPad mini 1.2 times. It has dual USB ports and protects against excessive overheating. What makes this battery charger great is you can easily plop it in the pants of your pocket as you walk around playing Pokemon Go. It's probably one of the most portable battery chargers on this list. It sells for $41.99 on Amazon.
1. RAVPower 20100mAh Portable Charger
The RAVPower makes the top of the list for its lightning fast charging speed for those who don't want to wait around for their phone to charge. The most annoying thing for me was realizing my phone had no battery when I heard about a rare Pokemon in the area and couldn't run out to get it right away. This battery charger charges up to 80% of battery and completely charges up the phone in 35 minutes and to recharge the battery charger, it takes only 4.5 hours. So you can easily charge it up overnight so it's ready for the next day. The RAVPower goes for $72.99 on Amazon.
Your Daily Blend of Entertainment News