This Massive Snorlax Chair Is Well Worth The High Price Tag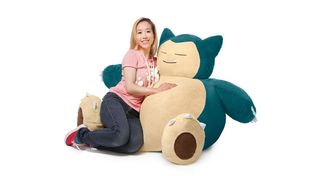 (Image credit: ThinkGeek)
ThinkGeek has a new Snorlax bean bag chair that's four feet tall and over two feet wide. The bean bag is not cheap by any means, though, and you'll have to shell out $149.99 to get your hands on it. It's not out yet, though, so you'll have plenty of time to save up.
According to Game Informer the bean bag is set to arrive this upcoming December during the holiday season, so it might end up being the perfect gift for a loved one or someone who just happens to be a huge fan of Pokemon. In fact, the bean bag might be a great companion to the upcoming November release of Pokemon Sun and Moon, both of which are set to arrive on the Nintendo 3DS. Heck, you could kick back and relax on your Snorlax chair while you play Pokemon Sun and Moon.
One thing that does stand out over on the ThinkGeek page for the bean bag is that it states that it's pending licensor approval. Gamer informer notes that the bean bag is being officially licensed from The Pokemon Company, so maybe they entered into negotiations and they're waiting for the final thumbs-up, which could explain why the bean bag chair won't be available until this December.
That hasn't stopped ThinkGeek from opening up pre-orders, though. You can place those orders now as a way to get ahead of the surge of what's likely to be a huge wave of customers and fans of Pokemon wanting to get their hands on the chair when it releases this December.
As far as the more detailed specifications are concerned, you are advised to hand wash the bean bag and let it air dry. So if you're prone to spilling things on poor 'ole Snorlax, be sure to take a hand cloth and some suds to the bag instead of attempting to throw it into an industrial sized washing machine.
The bean bag is made of 100% polyester on the outside and is filled with a mixture of materials on the inside, including cotton, polyester fiber and polystyrene balls. So if you have a reaction to polyester you might want to think twice about the bean bag.
Also, take into consideration that the $149.99 price tag is accompanied by a $10 heavy item surcharge and there's also the additional shipping and handling. So you might be paying close to $200 when all is said and done.
I must say that Snorlax seems to be the perfect choice for a Pokemon chair, though. He's big enough to make it seem authentically life-sized and at the same time his overall shape within the Pokemon games and anime are perfectly matched for being a comfy bean bag chair.
I would say this would be great for all the Pokemon Go players out there, but the reality is that when you're playing that game the whole goal is to walk around and stay moving. It's not really possible to do that if you're catching some Zs on your Snorlax bean bag chair.
If the licensor approval goes through, expect to see the Snorlax bean bag chair launch exclusively from ThinkGeek.com.
Staff Writer at CinemaBlend.
Your Daily Blend of Entertainment News
Thank you for signing up to CinemaBlend. You will receive a verification email shortly.
There was a problem. Please refresh the page and try again.