DOTA 2 Is Introducing A New Hero, And We Love Him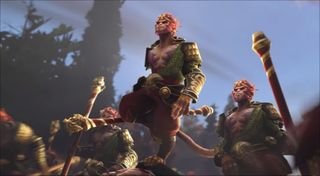 DOTA 2 is expanding its roster with a brand new hero to join the line-up, and it's a hero for the ages. Chinese folklore legend the Monkey King will be added to the roster this fall, giving the game some eastern flair as the selection in heroes continues to grow and expand for the free-to-play MOBA title.
The trailer went up recently over on the DOTA 2 YouTube channel and it's a basic teaser introducing gamers to what they can expect to encounter this fall in DOTA 2. The trailer doesn't reveal too much about the Monkey King, other than that he'll have his iconic staff with him that he takes into battle. It also appears as if the trailer gives gamers a glimpse at some of his moves that he'll be able to unleash on the lanes.
For instance, he has an attack that appears to wipe out a group of creeps. It's likely that we can assume this long-range lane attack could make its way into DOTA 2. We also see that the Monkey King manages to trick his opponent, by teleporting behind him. It would make a lot of sense if that happened to be one of his abilities as well... being able to get the drop on opponents by zipping out of the way and ending up behind them. Expect a healthy cooldown on that skill if it does make it into the game.
Now if the trailer is anything to go by, the Monkey King will have the ability to spawn his own minions to help him in battle. It would be a pretty effective special if that is the case.
The Monkey King making an appearance in DOTA 2 is following on the heels of other MOBA titles having their own versions of the legendary Chinese folk hero appear as a playable character in the game. The comment section on the YouTube teaser video talks about DOTA 2 playing catch-up with League of Legends, which also has their own version of the Monkey King known as Wukong.
In Riot Games' MOBA, Wukong has similar moves to the ones you see in the trailer above, including the ability to turn invisible and drop a decoy behind that can deal magic damage to enemies. He also gets his Nimbus Strike, which many fans of Dragon Ball will recognize as Son Goku's homage to the Monkey King, along with his retractable staff.
Speaking of retractable staffs and the Monkey King... one thing a lot of the commenters forgot to mention is that both DOTA 2 and League of Legends aren't the only MOBAs with a playable Monkey King. One of the more robust interpretations of the character appears in Hi-Rez Studios' SMITE, where Sun Wukong not only gets a Nimbus-like clone attack, but he also has the retractable staff attack like the one from DOTA 2 and he gets to transform into different animals.
It's hard to tell right now which Monkey King will be the best iteration, but we'll have to wait for more info on DOTA 2's interpretation of the legendary myth before deciding which MOBA's Monkey King is the strongest. Right now it looks like SMITE is the one to beat.
You can expect this martial arts monk trickster to appear in the game with the fall update.
Staff Writer at CinemaBlend.
Your Daily Blend of Entertainment News
Thank you for signing up to CinemaBlend. You will receive a verification email shortly.
There was a problem. Please refresh the page and try again.