Destiny Is Available For Free, Only Not Really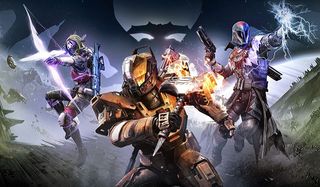 Some folks were shocked yesterday to discover that Destiny was marked down to the low-low price of zero dollars on various digital marketplaces. After the "hurry up and get it" hype got rolling, folks discovered the truth about this "free" copy of the two-year-old first-person shooter.
To be more specific: Destiny is not free. What's interesting is that the team at Bungie has acknowledged the situation, but offered no explanation as to what, exactly, is going on.
Yesterday afternoon, word got around that Destiny had been marked down to $0.00 on Xbox Live, causing folks to download the game en masse. The usual slew of articles went live as folks tested out other marketplaces, discovering that it appeared Destiny had gone free-of-charge across the board.
As the folks at Bungie pointed out today on their blog, and as folks who downloaded and tried to play Destiny gratis soon discovered, you're basically downloading a demo of the game. Per the statement from Bungie, while the base game for Destiny is currently "free," it only includes a trial version of the game. If you want to play beyond the trial, you'll need to purchase the upcoming Destiny: The Collection, which will include everything that's been released for the mega-hit over the past two years, plus the upcoming new expansion, Rise of Iron.
From that, of course, sprang new theories that Destiny was gearing up to go free-to-play, meaning you could dive into a chunk of the campaign free of charge and then pay for cosmetic items, extra content, etc. Honestly, given how broken up the Destiny experience is across interlocking modes, I don't see how the game could ever transition over to that model. I'm not saying it can't happen, just that it sounds very, very unlikely.
But I suppose you could look at the Destiny that's currently available on digital marketplaces as a free-to-play model. You can play the demo at no charge, then pay for everything else when it becomes available...No? Not doing anything for you? Fine.
The only reason I can think of for Bungie to do this is to safeguard themselves from pissed off customers in the coming weeks. Standard Destiny has been removed from shelves at many U.S. retailers, too, meaning it's hard to track down a copy of the bare-bones base game. With The Collection launching in the coming weeks, my guess is that this will make it less likely Bungie will have to deal with folks complaining because they bought the base game here at the end of August and then, boom, they discover they could have had the whole shebang for about the same price a few weeks later. That's speculation, but it makes a heck of a lot of sense.
So, were you one of the folks to try and land a copy of "free" Destiny yesterday? Tell us about your emotional roller coaster in the comments below.
Staff Writer for CinemaBlend.
Your Daily Blend of Entertainment News
Thank you for signing up to CinemaBlend. You will receive a verification email shortly.
There was a problem. Please refresh the page and try again.