Here's When You Can Play The Demo For Forza Horizon 3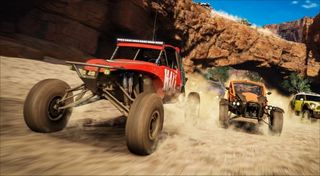 (Image credit: Microsoft)
Microsoft and Playground Games are prepping for the September 27th release of Forza Horizon 3. However, ahead of the game's release they'll be pumping out a playable demo of the game and it's arriving a lot sooner than you may have been expecting... like, September 11th soon.
According to the demo listing page over on the Microsoft store page (opens in new tab), they reveal both the size of the demo and the date in which it will become available for gamers to play-test. The date is set for this Sunday, September 11th. You'll also need a fair bit of hard drive space available if you plan on downloading the game. How much hard drive space will you need? Try 18.34GB on for size. Yeah, it's definitely a step up from Forza Horizon and Forza Horizon 2 or the other Forza Horizon: Fast & Furious standalone release.
The demo will also feature online capabilities for between two and 12 players. That's a pretty cool feature for a demo because most times the demo is restricted to a single-player experience and they usually restrict the scope of the demo to keep it small and teasing, but allowing players to actually play online with others will likely entice them to make the purchase later in the month.
The full version of Forza Horizon 3 will be jam packed with lots of traversal and racing opportunities that span the likes of the great outback of Australia, along with the country's modern urban cityscape and the illuminating sands stretching across the sparkling beaches. Each of these different types of environments will play a part in the kind of races that players will partake in throughout the gameplay experience.
Different from the first two Forza Horizon games -- and instead of focusing on just sport cars and utility vehicles -- there is the addition of rally races and specialty off-road challenges this time around. This includes racing dune buggies across Australia's deserts and rocky passes, as well as taking to the jungles in an attempt to out-race opponents being carried around in a Chinook helicopter. I'm not even lying... you will be racing against a Chinook helicopter in some challenges.
These races will require the fastest machines available to players and PlayGround Games has more than 350 vehicles for players to acquire and customize as they see fit. This ranges from super cars, sports cars and jeeps, to off-road buggies and production road vehicles. There's basically something in there for everyone. Each of the vehicles in this newest Forza Horizon are designed for a variety of race types, ranging from stunt races where players will attempt to jump and hop their way to the finish line, taking on convoy runs or exhibiting serious skill in harnessing the power under the hood in Drift Zone challenges.
Forza Horizon 3 will also bring back the series' trademark customization abilities with the option to slap custom body kits onto the cars, along with allowing players to outfit their car with some sexy liveries and vanity license plates. You can even choose your driver, just like in Test Drive Unlimited.
You can get your hands on the Forza Horizon 3 demo starting September 11th and you can look for the full game to go live on September 27th for the Xbox One and Windows 10.
Your Daily Blend of Entertainment News
Staff Writer at CinemaBlend.
Your Daily Blend of Entertainment News
Thank you for signing up to CinemaBlend. You will receive a verification email shortly.
There was a problem. Please refresh the page and try again.