Minecraft's New DLC Has A Trailer, Watch It Now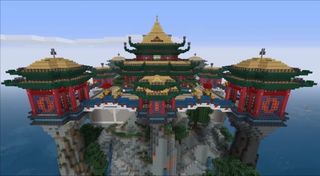 Microsoft has some new DLC coming for Minecraft in the form of a Chinese mythological mash-up pack. It features a pack of textures and themes to help gamers create buildings, structures and homes themed around Chinese culture and mythology.
The trailer is only a minute long and was posted up recently on the Team Mojang YouTube channel, revealing that it will be available on supported platforms starting October 4th. The video starts by giving us a look at a grand palace entrance gate where a player dressed in Dynasty-era garb rides up on a horse.
The ride up to the gate was a way to introduce people to the all new texture packs and visual motifs that turn Minecraft into a mythological Chinese wonderland.
The trailer does a fine job of capturing fly-by shots of furniture, windows, walls, restaurants, storefronts and homes mirrored after fantastical imagery that you might find in an illustration book or a fantasy sci-fi film. The one shot of a castle on a cliff high up in the sky is a pretty cool indicator of what kind of structures and imagery that players can build, construct and hew out of the newly provided DLC pack for Minecraft.
A lot of the structures themselves could have been created with the current pack of textures, it would just require a lot of time and dedication to construct something as large and as visually commanding as that giant dragon gate. Nevertheless, the DLC pack centered around Chinese mythology seems to be centered more the concept of creativity and giving gamers something new to think about in Minecraft as they build replicas of the Great Wall of China or construct a shrine of a panda sitting amongst a thicket of bamboo trees.
Some of the new textures, however, do drastically change the way your characters will be seen in the game. They briefly give gamers a look at some of the new garb that's available for characters to wear, including all new hairstyles, head dress and armor.
One interesting new element we see is the flying, fire-breathing dragon, hovering over the land like some ancient guardian unleashed.
There appears to be a lot of possibilities that could be present with the Minecraft expansion. Some gamers were only interested in the world itself and not necessarily the texture pack, but it was explained in the comment section that some of the new textures are what help give the world that Chinese themed look, something that wouldn't be present with just the textures alone or the world map by itself.
The mash-up pack will give gamers an opportunity to experience all the grand designs and fantastical structures present in the video, along with having the texture packs available to create or recreate their own world. And yes, the pack will come with some cool music, like the song featured in the trailer above. They didn't give a price but you can expect the new pack to go live for Minecraft on October 4th.
Your Daily Blend of Entertainment News
Staff Writer at CinemaBlend.
Your Daily Blend of Entertainment News
Thank you for signing up to CinemaBlend. You will receive a verification email shortly.
There was a problem. Please refresh the page and try again.