Microsoft Has Found A Way To Sell Even More Copies Of Minecraft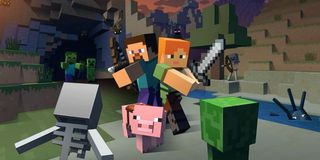 At this point, it seems like anyone who wants to play Minecraft probably has done exactly that. Microsoft isn't convinced, however, coming up with a new way to get the game into even more hands.
Over on the Xbox Wire (opens in new tab), Microsoft has announced a brand new bundle for the Xbox One S that features, you guessed it, Minecraft. It's more than a console with a copy of the build-it-yourself game, though, boasting a few extra goodies that might finally help push some resistant miners over the edge.
It's being called the Xbox One S Minecraft Favorites Bundle, offering "everything you need to build, survive and explore," with the latest Xbox console to hit the market.
As a handy reminder to you folks still rocking an Xbox 360 and deep into the world of Minecraft, everything you have going in the existing game can be easily shifted onto the Xbox One so, if you've been waiting to make the upgrade, now might be the time to do exactly that. Even better is the fact that, once you've made the shift, you'll now be able to build in Minecraft worlds that are 16 times bigger than what was available on the Xbox 360.
Let's kick things off with the console. This Minecraft bundle comes with a standard white Xbox One S console with a 500GB hard drive. Given the fact that the tech is missing from Sony's PlayStation 4 Pro that's launching later this year, the rundown made sure to point out the fact that this console has a built-in 4K Ultra HD Blu-ray player. It also does 4K video streaming and offers HDR for gaming, all of the cool buzz words surrounding gaming these days.
The other piece of hardware is the new Xbox One S wireless controller that offers an expanded range and Bluetooth support for Windows 10 PCs.
As for the game, you're getting a pretty hefty package here.
-Minecraft: Xbox One Edition download code, with enhanced performance and 16X bigger worlds compared to the Xbox 360 Edition.
-Minecraft: Xbox One Edition Favorites Pack download code, which features the Festive Mash-up Pack, Halo Mash-up, Fantasy Texture Pack, Natural Texture Pack, City Texture Pack, Battle & Beasts Skin Pack and Battle & Beasts 2 Skin Pack.
-Minecraft: Xbox One Edition Builder's Pack download code, which includes Biome Settlers Skin Pack, Cartoon Texture Pack, Candy Texture Pack, Plastic Texture Pack, Pattern Texture Pack and the Greek Mythology Mash-up.
-Minecraft: Windows 10 Edition Beta download code
-14 day Xbox Live Gold trial membership
To sum up, you're looking at more than 230 character skins for the game, as well as three texture packs and seven mash-up packs to make your creations truly unique.
Grab the Minecraft Xbox One bundle now for $299.99 in the US and Canada. It'll arrive in the UK, Western Europe and Central Europe on Oct. 11, Australia and New Zealand on Nov. 1, and at some point down the road in Asia and Latin America.
Your Daily Blend of Entertainment News
Staff Writer for CinemaBlend.
Your Daily Blend of Entertainment News
Thank you for signing up to CinemaBlend. You will receive a verification email shortly.
There was a problem. Please refresh the page and try again.