Could This Be The Title Of The Next Tomb Raider Game?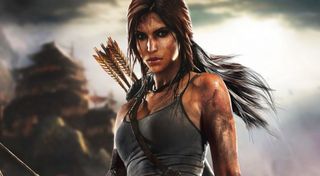 (Image credit: Crystal Dynamics)
There are some unsubstantiated leaks going around the internet right now regarding what could be the next Tomb Raider game. There's nothing concrete to go by but an image that has been floated through social media has given the gaming community much to talk about.
Over on Reddit, user Tripleh280 posted up an image on imgur saying that he saw someone working on a presentation on his laptop during his subway trip across town and part of the presentation read that it was for a game called Shadow of the Tomb Raider.
If this is what some people in the Reddit comment section think it is, then we could be looking at the next entry in the long-running Tomb Raider series. The comment section runs through a gauntlet of questions, including which subway train Tripleh280 was riding, and whether or not he was in Montreal (where Eidos has an office) or San Francisco (where Crystal Dynamics has a studio setup) and what time of day it was. The photo was said to be taken in Montreal, Canada. A lot of the internet detectives were looking to apply their expert skills in figuring out where exactly he was and the time of day so they could pinpoint if it was someone from Crystal Dynamics/Eidos and which employee it might have been based on their work schedule.
Never underestimate the attention paid to detail and addiction for completion from the gaming community.
However, in the case of game titles being leaked, this wouldn't be the first time that a game was inadvertently filtered through the gaming community through a Reddit post. Back in early 2013 a Reddit user named photoacoustic posted up a thread in the Assassin's Creed sub-Reddit where they mentioned that they were on a flight and a woman in a row just in front of them had a laptop open with a powerpoint presentation for Assassin's Creed IV: Black Flag. The presentation read that the game was due for release in holiday, 2013. It turns out that the post on Reddit wasn't prophetic, this chap just managed to be lucky enough to be in the right place at the right time and have a Reddit account.
So it's completely possible that what Tripleh280 is saying is true. However, it is kind of weird that people aren't instantly passing it off as fake. For all we know this guy could have had a friend take a blurry screenshot of a laptop with a fake mock-up of Shadow of the Tomb Raider on it. It's not like it hasn't happened in the recent past with things like the fake mock-ups of the Nintendo Switch (then known as the Nintendo NX), which saw some snazzy and dedicated trolls model a full handheld unit in 3D based on brief patent designs and then go through the process of creating a fake prototype of the Nintendo Switch.
In the same way that technology has allowed us to find and spread leaks of unannounced video games, technology has also afforded us abilities to troll with said technology in ways that would blow the minds of people from just a generation ago.
In this particular case, it's not unlikely that Crystal Dynamics is already working on a follow-up to Rise of the Tomb Raider, only because the last game ended in a blatant cliffhanger and a lot of fans of Lara Croft have been waiting for her to finally become the tough, acrobatic super-heroine that they grew up with during the 1990s and early aughts. The time frame would also link up since Rise of the Tomb Raider originally came out last year, so a release in 2017 seems plausible enough. Of course, this is all assuming that Shadow of the Tomb Raider is real. I guess we'll have to wait and find out.
Staff Writer at CinemaBlend.
Your Daily Blend of Entertainment News
Thank you for signing up to CinemaBlend. You will receive a verification email shortly.
There was a problem. Please refresh the page and try again.