Here's How You Can Play Titanfall 2 For Free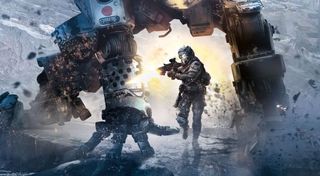 (Image credit: Respawn Entertainment)
A lot of analysts were worried about Titanfall 2 and its performance on the market, given its stuffed release window, which saw it sandwiched between Battlefield 1 and Call of Duty: Infinite Warfare. However, EA is helping give some breathing room to the game by working with Respawn Entertainment to offer up a free trial of the sci-fi shooter.
According to Eurogamer, starting November 30th gamers will be able to get their hands on Titanfall 2 for free. However, the November 30th trial date start is for those who either have EA Access on the Xbox One or Origin Access on PC. Everyone else who does not have either EA Access or Origin Access will have to wait until December 2nd to get their hands on the game's free trial.
The December 2nd start date seems to indicate that the trial will be for a free weekend of Titanfall 2 action, but Eurogamer notes that they don't have any end date on this free trial. However, it's likely that it will last through the weekend and end on Monday morning, which is usually how most free trials work.
The trial will open up Titanfall 2's multiplayer to gamers looking to play-test the sci-fi mech shooter in case they didn't get a chance earlier in the month or had to skip out on it due to the stacked weeks between the end of October and all of November.
Some people thought EA was crazy for releasing Titanfall 2 within weeks of Battlefield 1 and Call of Duty: Infinite Warfare, but the reality is that EA desperately wanted to eat into the market of Call of Duty and finally topple them. In a way, they had a perfect alignment of the stars to take a serious dig into the market share of Activision's premiere first-person shooter.
The hugely negative reaction from the gaming community about Call of Duty: Infinite Warfare being another future shooter in the franchise -- making it four years in a row themed around future warfare -- turned a lot of people off and instantly had them flocking to Battlefield 1 as an alternative. Thanks to Respawn focusing their sci-fi title more around mech combat with the Titans, it helped set it apart from Infinite Warfare by just enough. EA used this as a way to sell gamers on two types of shooters this fall, with Battlefield 1 offering a unique take on World War I, while Titanfall 2 would be the sci-fi shooter to satiate the desires of those wanting a futuristic shooter.
The reactions to Titanfall 2 have been basically nothing but positive, and the word of mouth could help give the game a strong tail end when it comes to sales. EA is helping boost that possibility just a bit more by giving the game some post-launch love, using the free weekend to remind gamers that the critically respected and community loved shooter is still out and available.
It may be hard to win over some of the die-hard Call of Duty fans who just won't let the series go, but with a strong post-launch DLC roadmap (consisting of free maps and weapons), Respawn Entertainment might be able to ween people off Activision's first-person shooter and lure them into their own.
Continued support from EA with free trials will also do wonders for the game, helping those who are sitting on the fence to make a more decisive commitment. Once again, if you have EA Access or Origin Access, you can leap into the free trial starting November 30th. For everyone else, the free trial starts December 2nd.
Your Daily Blend of Entertainment News
Staff Writer at CinemaBlend.