One Issue With Titanfall 2's Achievement Situation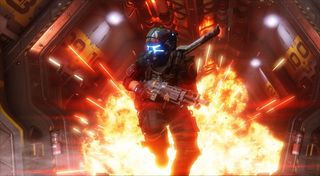 (Image credit: Respawn Entertainment)
Respawn Entertainment has done quite a few different things with Titanfall 2. The game has launched for PC, PS4 and Xbox One and offers gamers some massive Titan on Titan action. However, there's one major issue that some people spotted when it comes to the achievements and trophies.
Videogamer.com is reporting that a majority of the achievements for Titanfall 2 are relegated to the campaign mode. This means that if you want to get all of the goodies, you'll have to play through the single-player mode to do so.
According to Videogamer, only three out of the total 51 achievements are centered on multiplayer. That's a hefty bit of single-player focus.
There's really no doubt that a large part of Titanfall 2 is all about establishing the game's larger world and wide lore. The campaign mode isn't very long, but it focuses mostly on the conflict between the Militia and IMC forces, two factions that were introduced in the first Titanfall through brief recordings that played at the start and end of each mission.
Some die-hard fans will argue that the original game had a story if you paid attention to the multiplayer campaign audio bits, but there was little to glean from it all unless you set out to seriously pay attention to the voice overs during the the missions (which played while you were mostly focusing on trying to stay alive and kill other players). There was no solid narrative for the average person to latch on to based on the original game's design.
For Titanfall 2, Respawn went back to their old ways during the Call of Duty: Modern Warfare and Modern Warfare 2 era for the game's story mode. Arguably, those are the two most popular Call of Duty games in the whole franchise, if you ask most average gamers. It's no surprise that they would want people to really sink their teeth into the campaign mode, and what better way to do that than to rekindle classic storytelling techniques and lob most of the achievements in the single-player portion of the game?
Besides, they're likely banking on having to compete hardily with Battlefield 1 for gamer's attention when it comes to multiplayer, and a focus on single-player achievements sort of separates them a little bit from DICE's shooter and Infinity Ward's upcoming Call of Duty: Infinite Warfare, both of which will also vie for control of the multiplayer market share.
There have been some worries from analysts that EA is playing a very dangerous game with having Titanfall 2 launch so close to Battlefield 1, but they seem intent on cutting out the market share of Call of Duty this year in a huge way, likely aiming to completely curb week one sales compared to previous outings in the series.
While most people who will pick up Titanfall 2 will do so for the multiplayer, giving those potential Call of Duty fans a reason to pause and check out Respawn's game for the single-player mode (leveraged by the focus on single-player achievements) might be enough to sway some buyers over. Besides, if they know they're already getting good multiplayer in Titanfall 2, luring people in with the promise of a robust and fully fleshed out single-player might also be enough to convince the sci-fi shooter fans to go with EA's title over Activision's title.
Of course, there's no way to know for sure why Respawn focused more on single-player than multiplayer unless they say so themselves, but at least they weren't reserved in extending their reach out to the single-player market.
Titanfall 2 is available right now for the PS4, Xbox One and PC.
Your Daily Blend of Entertainment News
Staff Writer at CinemaBlend.