You Can Now Play The Original Diablo Inside Diablo III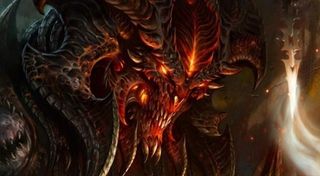 (Image credit: Blizzard Entertainment)
Blizzard Entertainment had announced previously that they would be celebrating the 20th anniversary of their isometric hack-and-slash game in a big way, but I doubt anyone thought that you could play the original Diablo inside of Diablo III.
As reported by Gamespot, Blizzard implemented a new Diablo throwback dungeon into Diablo III. The dungeon will only be available for a limited time and was made available in update patch 2.4.3 for the PC, PS4 and Xbox One. Players can access the dungeon by talking to some cultists in the Adventure Mode. The cultists will open up a portal that will take you to a secret dungeon set within the original Diablo universe.
Now the cool part about this throwback dungeon is that it's designed to imitate the look and feel of the original game from 20 years ago. This includes art assets and enemies aesthetically mirrored after the original Diablo content, including your main character. They even restrict movement to only eight directions, just like the original game.
The old-school dungeon isn't just a single level homage to a classic that helped make Blizzard into a billion dollar company. The dungeon will run you 16 different levels, so there will be plenty to explore and fight through for quite some time as you rekindle the roots of the first game.
Players will get to encounter retro graphics, sound effects, and the original Gothic UI that gamers knew and loved in the original Diablo. Blizzard suggests making a new character for the mode so you can get the full experience.
A series of new items and gear can also be looted, including the new Crusader's Armor of Akkhan, the Talisman of Akkhan, and the new Legendary Red Soulstone Shard.
The update contained more than just a nod and celebration of the 20 years of Diablo bringing gamers lots of fun and frustration, there's also new bounties to take on in the Adventure Mode, all new Rifts, and Greater Rift experiences to help give gamers something fun to do, and they've improved how you can utilize dyes in the game.
There have also been some console specific updates for Diablo III, as mentioned over on the changelog page. Those of you with a PS4 Pro and a 4K-ready TV will be able to enjoy 4K output display for Diablo III.
4K gaming hasn't really been as big a desire from the gaming community as 1080p at 60fps due to the fact that 4K is an extremely demanding spec to reach and a very expensive one, too. For the most part, 4K is used in enthusiast gaming circles for benchmarking purposes, but it's not really saturated enough in the market for people to demand it as a visual standard (right now). A lot of gamers feel 1080p at 60fps with 4x MSAA is that sweet spot between performance and clarity that makes gaming oh so good. Nevertheless, if you already have a PS4 Pro and a 4K TV you'll now be able to enjoy Diablo III at a 4K resolution with update 2.4.3. I'm also sure those old-school Diablo I visuals will look real eye-popping at 4K.
Your Daily Blend of Entertainment News
Staff Writer at CinemaBlend.
Your Daily Blend of Entertainment News
Thank you for signing up to CinemaBlend. You will receive a verification email shortly.
There was a problem. Please refresh the page and try again.