The Video Game Series That Influenced Guardians Of The Galaxy, According To James Gunn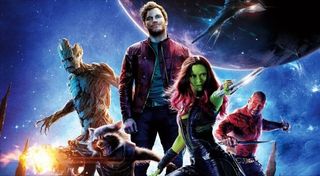 There isn't a real long list of popular sci-fi franchises in gaming over the past few generations, but one of those game series managed to help influence how director James Gunn approached Guardians of the Galaxy.
In response to a tweet from a dedicated fan, James Gunn, the director of the Guardians of the Galaxy films, posted up on his Twitter account what sort of movies helped inspire him to make Marvel's sci-fi space adventure based on the comic books. Seeing Mass Effect in the list brought out BioWare's community manager to give a salute to Gunn for appreciating the work that the studio has done on the series so far, and a few Mass Effect fans also showed their support.
He mentions that while Mass Effect obviously did play a role in inspiring him to make Guardians, there were also other sci-fi treats from the past that helped as well. A lot of fans from the Syfy series Farscape were thrilled with nod from the esteemed director. I personally never really got into Farscape, but it definitely has a loyal following.
Giving a head-nod to the Star Wars movies seemed pretty obvious. You can definitely see some of the inspirations from the LucasFilm movies contained within the sprawling Marvel adventure.
Most notably, however, is Gunn's appreciation and inspiration from the 1980 Flash Gordon flick, which is an absolute cult classic. The music alone, especially the theme from Queen, is legendary. A few people asked Gunn if the Queen song from the 80's film would make its way onto Starlord's mixtape, but Gunn opted to leave that a secret for now.
Of course, there was a lot of people who were thrilled that Mass Effect was mentioned as an inspiration for Gunn, but it's tough to tell how much of it inspired the movie. Certain sci-fi flicks and properties can easily be spotted, but Mass Effect is a different kind of beast. It always reminded me of a more intimate, gritty version of Star Trek. There's usually a lot of political intrigue wrapped around some plot that could dismantle the very fabric of the known galaxy. Guardians of the Galaxy took a more good-guy/bad-guy approach to its storytelling, giving viewers an easy to follow plot with a satisfying end. In that regards, the Flash Gordon inspiration stands out loud and clear.
The unlikely pairing of the heroes and the Han Solo-type portrayal of Starlord definitely falls in line with the Star Wars inspiration. And of course, the colorful gallery of unlikely crew mates venturing across the galaxy is all Farscape.
Unfortunately, Gunn doesn't go into much detail about what parts of different movies, comics and TV shows helped bring Guardians of the Galaxy together, but after mentioning that Mass Effect did play a role in inspiring him, he had many of his fans begging and pleading for him to direct a Mass Effect movie.
Your Daily Blend of Entertainment News
Staff Writer at CinemaBlend.
Your Daily Blend of Entertainment News
Thank you for signing up to CinemaBlend. You will receive a verification email shortly.
There was a problem. Please refresh the page and try again.