The Next Titanfall 2 Update Is Missing Titans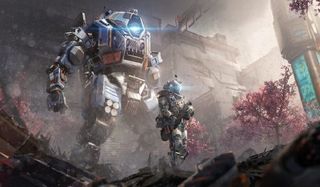 The new year is upon us and, with it, the team at Respawn Entertainment is primed to launch the first big content update of 2017 for Titanfall 2. Oddly, the titular Titans have nothing to do with this latest update.
While no new Titans or tweaks to the existing mechs are planned for the next Titanfall 2 update, that doesn't mean there isn't plenty here to enjoy. The latest game mode actually removes the metallic brutes from the game entirely, with a collection of new maps thrown in for good measure. As is the case with previous Titanfall 2 DLC, this latest batch of content is also free of charge.
To kick things off, Titanfall 2 is getting a brand new game mode called Live Fire, and it's all about moving quickly and staying alive while trying to prevent your opponents from doing the same thing. All of the latest details recently went live on the Titanfall 2 blog, where the new mode and maps were highlighted.
As for Live Fire, you'll be playing without a Titan in this mode, a 6v6 showdown where you only get one life and have to try and take out your opponents with a quickness. This is a round-based mode that rewards the best of five with a victory. There's actually a neat little twist, too, to keep players from wanting to stay too well hidden. If you have the most living players when a single minute passes, you win. Or, if someone on your team happens to be holding a neutral flag when the timer expires, you win. In other words, with a little luck and a lot of insanity, a guy who is facing down a team 1 to 5 can still manage to grab that flag and earn a win for their team.
To complement this mode, a pair of new maps are being introduced to Titanfall 2 built specifically with Live Fire in mind. In fact, that's the only mode where you'll be able to play them, as they are built small, tight and perfect for these rough and tumble showdowns. They're called Stacks, which looks like a shipping yard, and Meadow, which looks like a lightly forested area in the middle of a factory.
The final big addition for this next update is a new map for Coliseum called Columns, though no images were available for this one. There will also be a new pilot execution introduced, as well as some Commander intros to keep things fresh.
As a final note, the update gives a glimpse at a new match interface that's still in the works but already looks far more manageable than the current system.
Your Daily Blend of Entertainment News
Staff Writer for CinemaBlend.
Your Daily Blend of Entertainment News
Thank you for signing up to CinemaBlend. You will receive a verification email shortly.
There was a problem. Please refresh the page and try again.