How The Nintendo Switch May Plan To Deal With Its Storage Problem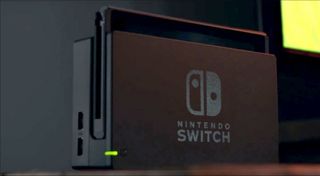 (Image credit: Nintendo)
When Nintendo launched their live-stream presentation from Tokyo, Japan on January 12th, they revealed that the Nintendo Switch only had an internal storage capacity of 32GB. A lot of people felt that was way too small. Well, they may have a plan to deal with its storage problem.
Over on the official UK Nintendo website, they rolled out some specifications for the Nintendo Switch, detailing what gamers can expect from the hardware when it becomes available during the early goings of March. One thing that stood out that hasn't been receiving a whole lot of attention are the ports on the Switch... specifically, the USB ports.
The Nintendo Switch's docking station contains three USB ports, two of which are on the front and one of which is on the back, all three are USB 2.0 compatible. According to the spec sheet, there will be support for USB 3.0 hardware. However, Nintendo has noted in the spec section that USB 3.0 support won't be available at launch.
So what does this mean for storage? Well, it means that this could be an added plan for those who want to download lots of games digitally. According to Destructoid, Nintendo did confirm that external storage devices would be supported, whether that be through external drives or cards. Nintendo also confirmed that the Switch can utilize SD storage devices at up to 2TB.
Now utilizing the USB ports for the Switch for storage could prove to be interesting, as it could open up the possibility of having 2TB external hard drives at the ready. In this regard, storage wouldn't be any more of an issue for the Switch as it would the PS4 or Xbox One. The benefit of USB 3.0 is that for super large games, whether downloaded or stored from another device, is that the access speeds are fantastic, allowing for up to 640MB per second transfer rates, meaning that you could technically download a bunch of digital games for the Nintendo Switch and then store them on an external drive attached to the dock within seconds.
This could also work as an alternate to using micro SD cards, which are also the current flavor of the month, but hold far less data than standard external drives or USB memory sticks. The micro SDXC cards can range from a number of different memory modules, up to 1TB for just under $100. However, transfer speeds for SD cards pale in comparison to USB 3.0 options. Thus, you could save money and have access to higher storage capacities (or at least more options) by utilizing the USB 3.0 port once it becomes available.
There are 32GB, high-speed USB flash drives available for as little as $15, which could easily be used to pack in tons of Virtual Console games for the Nintendo Switch without having to worry about lugging around a passport drive or keeping track of a bunch of SD cards, or waiting for them to load.
Ultimately, the addition of the USB 3.0 is not something that's been widely talked about for the Nintendo Switch. While a lot of complaints have centered around the low on-board storage capacity and expensive micro SDXC options, it's possible to bypass those all together and utilize higher storage and faster storage through the USB 3.0. This is all assuming that you prefer to go the digital distribution route for downloading and storing games on your Nintendo Switch.
Your Daily Blend of Entertainment News
Staff Writer at CinemaBlend.
Your Daily Blend of Entertainment News
Thank you for signing up to CinemaBlend. You will receive a verification email shortly.
There was a problem. Please refresh the page and try again.